News and Events
News and Events
Student Clinic Researchers Wanted for Traveller Equality and Justice Project Legal Clinic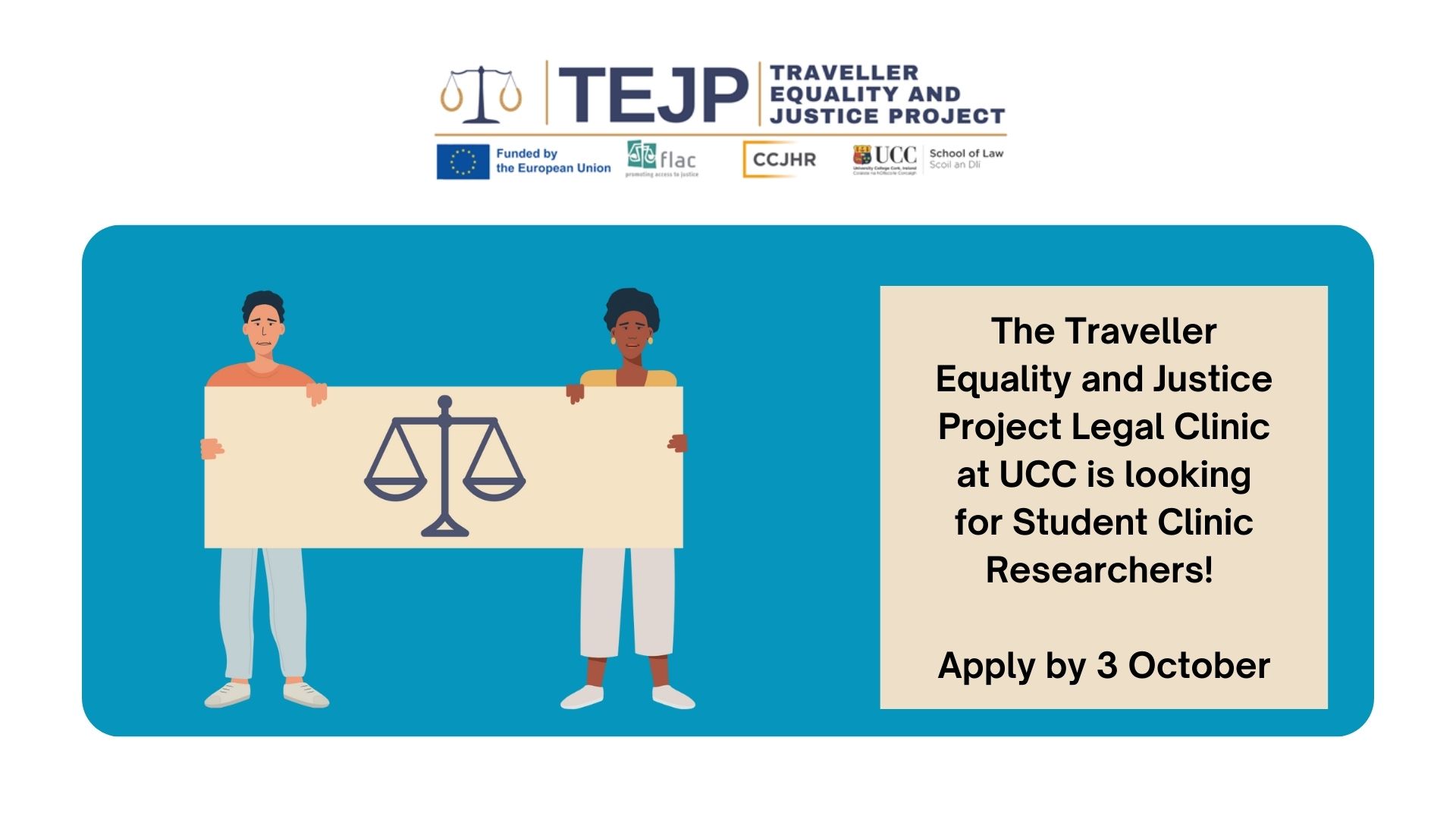 The Traveller Equality and Justice Project at UCC is offering final year Law students, LLB (Year 2), LLM and PhD students at the School of Law the opportunity to become a researcher in our legal clinic.
The TEJP is an innovative collaborative project between the Centre for Criminal Justice & Human Rights (CCJHR) at the UCC School of Law and the Free Legal Advice Centre (FLAC). TEJP has established Munster's first Traveller-specific legal clinic, providing access to justice for Travellers who have experienced discrimination and have been refused access to goods and services.
The TEJP is now recruiting student volunteers to take part. As a clinic researcher working directly with the TEJP team, you will create Case Summaries to be uploaded onto the Traveller Law Database. The Traveller Law Database provides searchable case law for both Irish and International decisions relating to Travellers.
Skills you'll need:
Interest in human rights and discrimination law and access to justice.
Experience in these areas is not needed, but transferrable skills are welcome.
Ability to read and understand domestic and ECHR, EU case law.
Ability to summarise cases in easy-to-understand language.
Proofreading and editing skills.
Ability to work to a deadline.
Successful applicants will:
Complete case summaries on a bi-weekly basis.
Meet weekly with the TEJP, including attending guest lectures from solicitors, barristers and high-profile individuals working in this area of law e.g. Marc Willers QC, Eilis Barry, FLAC, Frank Clarke (Former Chief Justice).
Undergo Traveller Culture Awareness Training and Sensitivity Training as part of the clinic procedure.
Please note as a student clinic researcher, you must be able to meet weekly with the TEJP from 6-8pm on Wednesday during term time beginning Wednesday 12th October. Mandatory training will be held on 19th October 6-8pm which you must be able to attend to work with the TEJP.
Student researchers will need to be able to undertake approx. 2-4 hours clinic work per week throughout the 2022/2023 academic year.
Speaking about the opportunity, TEJP Director Dr Fiona Donson said:
"Involvement with the TEJP Clinic gives students valuable insight into social justice issues while building practical lawyering skills. The Clinic provides students with hands-on public interest experience as well as fostering a deeper understanding of the reality of access to justice in Ireland."
Last year's students had the following to say:
"I thoroughly enjoyed the project throughout the year and while it was a task to take on in final year as an extra-curricular I found it both very interesting and useful in my studies and everyday life in regards to my prejudices. It would be great to see more social justice modules and talks being held in the Law School as I feel throughout the last four years in UCC emphasis is very much placed on the more traditional routes to take after your law degree."
"I think this project is a great initiative. If I am being honest, at first I saw the Clinic as an opportunity to improve my own research skills, and as something to add to my CV. Having engaged with the Clinic over the last few months though, I have found that I have really engaged with the material in the cases and have developed an interest in this area, not exclusively with the Traveller justice content, but with the area of inequality in general. Again, this comes back to the structure of our course and the legal mindset of qualification, but I think this would be a great module to have on the syllabus, even if it was a general inequality module and had a topic covering the area of Traveller inequality. To finish, thanks very much Alannah, Samantha and Fiona. I really enjoyed the experience. "
"It was interesting to experience and have the opportunity to research equality and social justice law, as it really isn't available as a module at undergrad level at UCC. Also, even the law firms we are introduced to through careers fairs are all primarily focused on commercial law so this is an area that I feel law students aren't even encouraged to consider. I enjoyed learning about and then getting to discuss social justice issues in the context of law the most throughout the clinic."
"I found the TEJP Clinic incredibly helpful, it allowed me to see the law in action in a much more thorough way than before. It also showed me how the law and government policies were working against Travellers."
Clinic researcher numbers are limited. In order to be considered for this fantastic opportunity, please apply by 3rd October 2022 via this link: TEJP Student Researcher Application
More information on the Traveller Equality & Justice Project and our work can be found here: https://www.ucc.ie/en/tejp/
If you have any questions about this exciting opportunity, please email TEJP@ucc.ie.