News and Events
News and Events
Student Clinic Researchers Wanted for Traveller Equality and Justice Project Legal Clinic – Apply Now!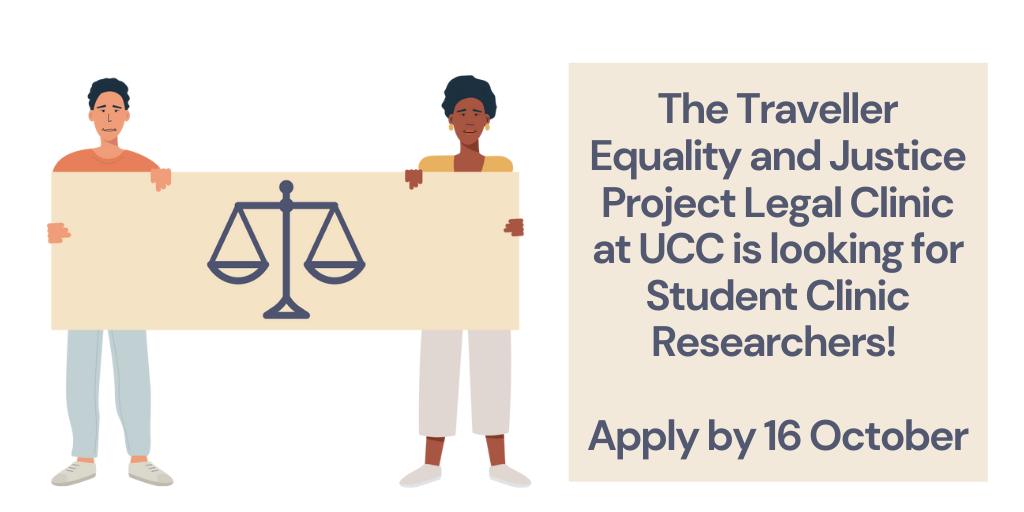 The Traveller Equality and Justice Project at UCC is offering LLB (Year 2), LLM and PhD students at the School of Law the opportunity to become a researcher in their legal clinic, starting in November 2021.
The Traveller Equality & Justice Project (TEJP) is an innovative collaborative project between the Centre for Criminal Justice & Human Rights (CCJHR) at the UCC School of Law and the Free Legal Advice Centre (FLAC). TEJP has established Munster's first Traveller-specific legal clinic, providing access to justice for Travellers who have experienced discrimination and have been refused access to goods and services.
Travellers either self-refer to the clinic directly, or cases are referred through an organisation. The clinic will then:
Assess each case with the client;
Identify whether the case is more appropriate for the Workplace Relations Commission (WRC) or the District Court;
Submit a data access request on the incident;
Ask the accused party if they would like to respond.
If the accused does not respond, or their response is unsatisfactory, the case will proceed to the WRC or to court.
Get involved!
The TEJP legal clinic is now recruiting student volunteers to take part in this work. As a clinic researcher working directly with FLAC and the TEJP team at the CCJHR, you will have the unique opportunity to work on an ongoing case which you will likely see through to completion.
Your tasks will include (but are not limited to):
Supporting in the assessment of cases that are referred to the clinic
Taking records of incidents of discrimination with clients
Undertaking data access requests on behalf of clients who have experienced discrimination
Research tasks relating to non-discrimination, access to justice and unmet legal need with applicability to ongoing legal issues
Successful applicants will also undergo Traveller Culture Awareness Training and Sensitivity Training on Working with Vulnerable Clients before beginning their placements.
Student researchers will need to be able to undertake max. 5 hours clinic work per week throughout the 2021/2022 academic year.
Speaking about the opportunity, TEJP Director Dr Fiona Donson said:
Involvement with the TEJP Clinic will give students valuable insight into social justice issues while building practical lawyering skills through work on live equality cases. The Clinic provides students with hands-on public interest experience as well as fostering a deeper understanding of the reality of access to justice in Ireland.
Clinic researcher numbers are limited. In order to be considered for this fantastic opportunity, please apply by 16th October.
Link to apply via Google Form: Click Here
Students will start researching within the TEJP Clinic on the 1st November. More information on the Traveller Equality & Justice Project can be found here: https://www.ucc.ie/en/tejp/
If you have any questions about this exciting opportunity, please email TEJP@ucc.ie.