News and Events
News and Events
Spotlight on Students: UCC School of Law student Rachel Deasy celebrates success at Justice Week Intervarsity Debate.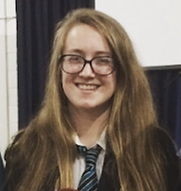 Third Year BCL (International) student Rachel Deasy represented UCC in the 2021 edition of Justice Week Intervarsity Debate.
Justice Week is an annual joint awareness campaign of the legal professions across the jurisdictions of Ireland, Scotland, Northern Ireland, England & Wales. It aims to promote an understanding and awareness of access to justice and the rule of law, particularly among young people.
Eight universities across the country were represented in the debate, conducted online and streamed live for people to watch. The judging panel comprised of the Honourable Mr Justice Seamus Noonan, the Honourable Mr Justice Maurice Collins, the Honourable Ms Justice Nuala Butler, and Maura McNally SC, Chair of the Council of the Bar of Ireland.
The motion of the debate was "This House believes that the right to offend, shock, and disturb is necessary in a democratic society" and the style of the debate was World Schools. Alongside students from UCD (Oisín), MU (Cameron), and UL (Eoin), Rachel represented the 'opposition'. The students put in intense preparation during the month of February to formulate an argument and find evidence and law to build and support their case.
The debate essentially revolved around the seminal ruling of the European Court for Human Rights in Handyside v UK [1979], where it was held that there is a right to convey information or ideas which are likely to shock, offend, and disturb. The 'opposition' team focused on distinguishing the right to shock, offend, and disturb from the right to freedom of expression. Rachel's speech addressed how this right actually discourages people from engaging in political discourse while also outlining the speeches of the rest of her team and defining the motion.
After an hour of passionate speeches, astute points of information, and poignant rebuttals the judging panel retired to deliberate. When they returned, they congratulated the teams and praised the work they had done, before announcing the winner: the 'opposition'!
Commenting on the achievement, Rachel said:
My team and I were overjoyed, especially after all the work we had put into preparing for the debate and working together. It was an exceptional experience which allowed me to meet new people from other law schools around the country and gave me the opportunity to expand my knowledge in this area of human rights law. I am incredibly grateful that I had this opportunity to partake in Justice Week and to represent UCC.
Congratulations to Rachel from all at UCC School of Law!