News and Events
News and Events
School of Law students spearhead successful Cork voter registration event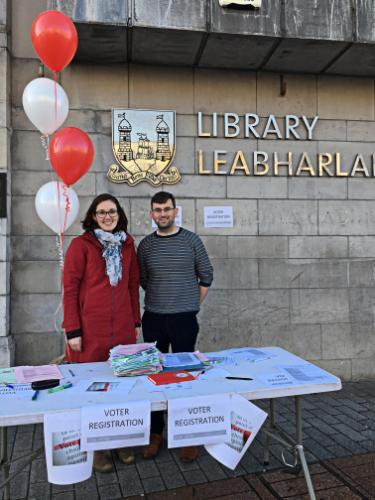 Ahead of the general election on 8 February, Cork Votes - a newly formed group run by two students from the School of Law, UCC - ran a successful voter registration event on Saturday 18 January in the city.
The event took place outside Cork City Library on Grand Parade. In two hours Cork Votes registered over 200 people to vote and provided forms and information to 100 more. A Garda was on hand to witness the forms so that they could be completed and submitted there and then.
Cork Votes was established in response to the very low turnout in the Cork North Central By-Election. The aim of Cork Votes is to increase voter turnout and participation.
Pádraig Rice is the founder and co-organiser of Cork Votes. Pádraig is a second year part time LLB student in the School of Law and also works full time as a community worker with the LGBT+ community in Cork.
Pádraig said:
"We were blown away by the number of people who turned up to register. As we were setting up, a queue started to form... This is an unprecedented voter registration event in the context of a general election. It reinforced our belief that if you make it easy and accessible people will turn up and they will engage."
Aisling Ryan is the co-organiser of Cork Votes. She is a full time PhD student in the School of Law and a volunteer solicitor with the Free Legal Advice Centre in Cork.
Aisling adds:
'People had travelled from towns well outside the city including Macroom and Mallow to register on Grand Parade. The two main reasons people cited for coming to register at the event were confusion over what form they needed to fill in and the difficulties associated with getting to a Garda station to get forms signed because many Garda stations now have reduced opening hours. We were happy to assist a number of people who wanted to register to vote but had difficulties filling in the form. There was also a high demand for Change of Address forms with many people saying they are moving house quite regularly due to the rental market.'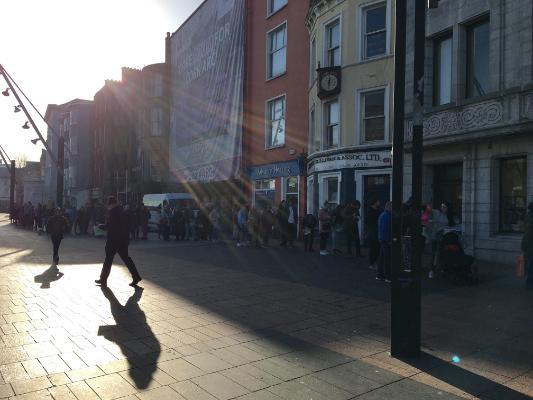 The registration deadline for the Supplemental Register of Electors is tomorrow (22 January). Once this deadline has passed, Cork Votes will focus on sharing information and tips about the practicalities of voting in an attempt to limit the number of spoilt votes cast on 8 February
For further information please contact corkvotes@gmail.com
Read more:
Check out media coverage generated by the Cork Votes registration drive in the Evening Echo and TheCork.ie.