News and Events
News and Events
Now Live: 19th Edition of the Cork Online Law Review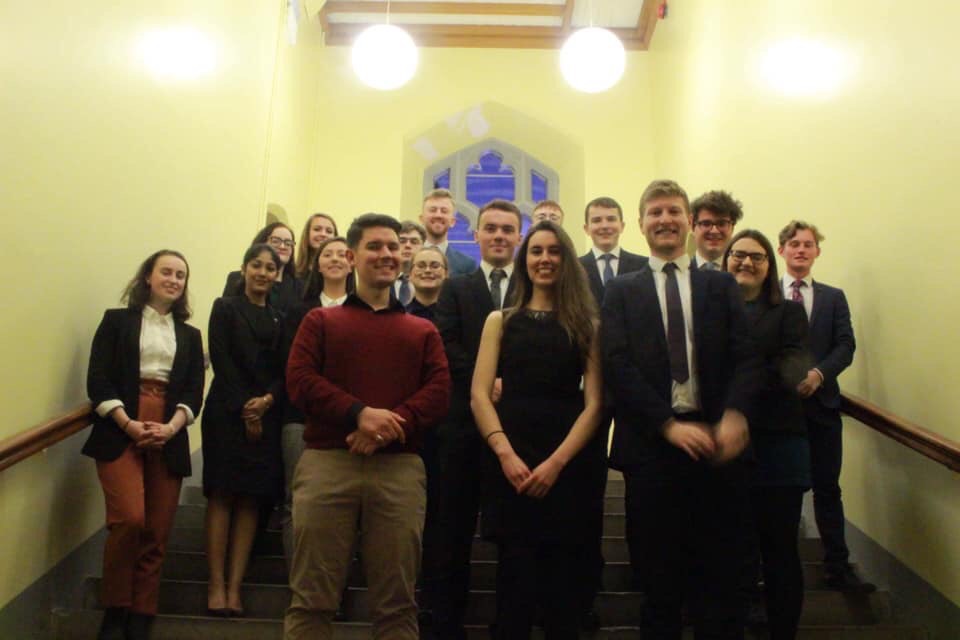 The Editorial Team of the Cork Online Law Review have just published the 19th edition of the student-run online law journal
This year's edition was delivered in exceptional circumstances, in the wake of the university closure due to the ongoing Covid-19 situation. The Editorial Board – all School of Law students – led by Editor-in-Chief Sinéad Walsh (BCL Clinical 4) had planned a launch event at UCC, but unfortunately this had to be cancelled as the university community, along with the rest of Ireland, abide by social distancing guidelines. Undeterred, the team decided to move the launch online.
The Cork Online Law Review (COLR) is a student-led, non-profit Law Review which provides an opportunity for undergraduate and postgraduate students, lawyers, academics and doctorate students worldwide to have their work published. It is run by an Editorial Board selected by the Editor-in-Chief, under the auspices of the UCC Law Society. The COLR is peer reviewed by faculty at the School of Law, UCC, and is kindly sponsored by Arthur Cox.
Highlights of the 19th edition
This year's edition contains articles on a range of timely, relevant issues. The Gold Medal for Best Overall Article was awarded to Julie McNamara for her article: 'The Role of Market Exclusivity in Incentivising Research and Development of Orphan Medicinal Products in Europe: A Critical Analysis' [2020] COLR 1.
COLR also accepts submissions in Irish or French. This year, the Gold Medal for Best Non-English Article was awarded to Ciara Woulfe for her article: 'An Mithid Duinn an Truicear a Tharraingt ar Airteagal 8.3 de Bhunreacht na hÉireann 1937?" [2020] COLR 67.
The Gold Medal for Best Letter to the Editor was awarded to MacKenzie F Common for her letter: 'From Execution Videos to Cats of Mujahdeen: How do Social Media Companies Regulate Terrorist Content?' [2020] COLR 96.
In her foreword to the 19th edition, Professor Maria Cahill of the UCC School of Law and COLR Advisory Board said:
"I warmly congratulate Sinéad Walsh and the members of the Editorial Board who have prepared this 19th volume of the Cork Online Law Review, bringing it to publication amidst the very challenging circumstances of a global pandemic.
As I have affirmed many times in the past, the academic contribution that COLR makes is dependent on the intellectual ambition of the authors who submit their work to COLR. The authors featured in this collection have each chosen to wrestle with an important legal question of our times in a truly academic way and to engage constructively with the editorial process in order to raise the quality of their submission even further. For their evident commitment to academic quality, they are to be commended."
In her acknowledgements, COLR Editor-in-Chief Sinéad Walsh thanked the Advisory Board, sponsor Arthur Cox, contributors, and in particular her Editorial Board, noting:
"The quality of this publication is a testament to their vivacious attitude and work ethic which has never faltered, even in the challenging surrounding context of a global pandemic in which this edition has been published".
The 19th edition of the Cork Online Law Review is available to read here: https://www.corkonlinelawreview.com/edition-1
Submit to next year's COLR
The Editorial Board of the Cork Online Law Review would like to invite submissions for the 20th edition, due to be launched in March 2021.
All submissions should be on a legal topic and be between 3,000 and 9,000 words in length. Book reviews and case notes will also be considered.
All interested parties should submit their articles and enquiries to:
The Editor-in-Chief
editor@corkonlinelawreview.com
Submissions are also invited for the Letters to the Editor section. Submissions should be on a topic of current legal relevance, whether domestic or international, and should be approximately 1000 words in length. Letters are welcome in Irish, English or French.
All interested parties should submit or enquire to:
The Letters Editor