News and Events
News and Events
COVID-19 Vaccination in the UK and Ireland: Ethics in Practice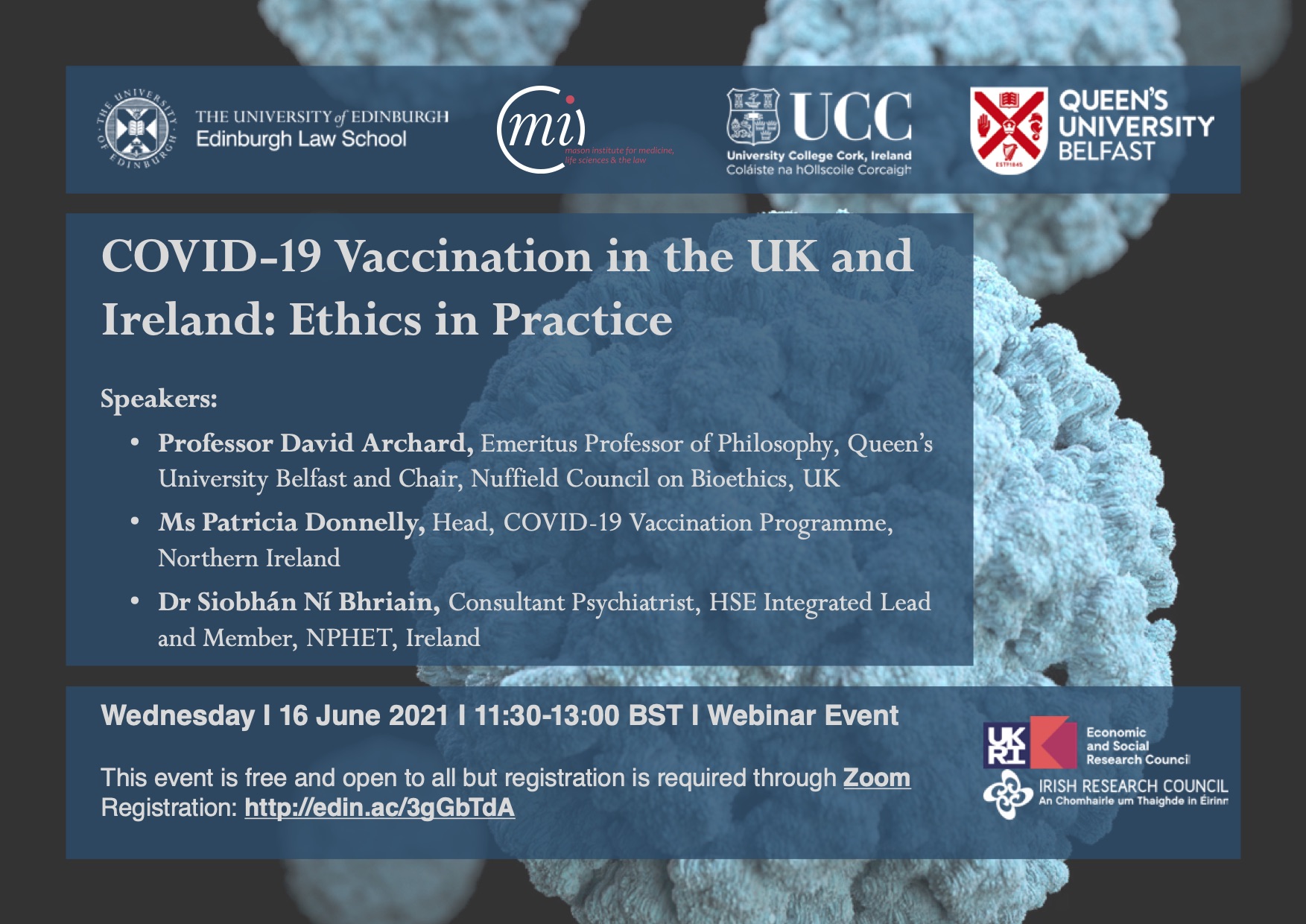 On 16 June 2021, the Public Health Ethics and Law Research Network (PHELN) hosted a public webinar event and an online workshop, examining COVID-19 Vaccination Programmes in the UK and Ireland.
The public webinar event involved an interactive discussion between Ms Patricia Donnelly, Head of the COVID-19 Vaccination Programme, Northern Ireland; Dr Siobhán Ní Bhriain, Member of the National Public Health Emergency Team (NPHET), Ireland; and Professor David Archard, Chair of the Nuffield Council on Bioethics and Emeritus Professor of Philosophy, Queen's University Belfast.
All three speakers discussed the ethical, policy and practical issues at stake in implementing COVID-19 vaccination programmes, focused on the following questions: What values have, or should have, informed the COVID-19 vaccination programme? How did we go about, or how should we have gone about, determining priority groups for COVID-19 vaccination? What are some of the practical issues faced when implementing this type of vaccination programme? An edited webinar presentation can be accessed here.
Following the webinar, an online workshop was held which brought together a range of academics, public health professionals and policy-makers to reflect on the issues raised in the webinar as well as set out in a PHELN Working Paper prepared for the workshop: C O'Néill, ME Tumelty, M Donnelly, AM Farrell, R Frowde and L Pentony, COVID-19 Vaccination in the UK and Ireland: Ethics in Practice, PHELN Working Paper No. 1, June 2021.
Speaking following the event, Professor Mary Donnelly, UCC School of Law and Principle Investigator on the Irish side of PHELN, said:
We were delighted with the success of the first webinar/workshop in the PHELN series. It reflected a clear appetite for debate about how public health decisions are made in the context of the Covid-19 pandemic. Our speakers provided rich and varied perspectives on ethical decision-making in practice in relation to the rollout of the vaccination programmes in Ireland and Northern Ireland. We are thrilled now to be able to make the recording of the webinar and the workshop paper available.
The Public Health Ethics and Law Research Network (PHELN) project is funded by the Economic and Social Research Council (ESRC) and the Irish Research Council (IRC). The project is jointly led Professor Anne-Maree Farrell, Edinburgh Law School and Director of the Mason Institute and Professor Mary Donnelly, School of Law, University College Cork, Ireland.
The PHELN project aims to foster networks and collaborations between academics and public health stakeholders in the UK and Ireland, focusing on the COVID-19 pandemic way of case study. This was the first event organised by the PHELN project, with further ones planned over the next year on topics such as COVID-19 and public-private provision in care and residential homes; and COVID-19, public health and human rights.