News and Events
News and Events
Project Webinar: Corporate Rescue and Legal Supports for Businesses Post COVID-19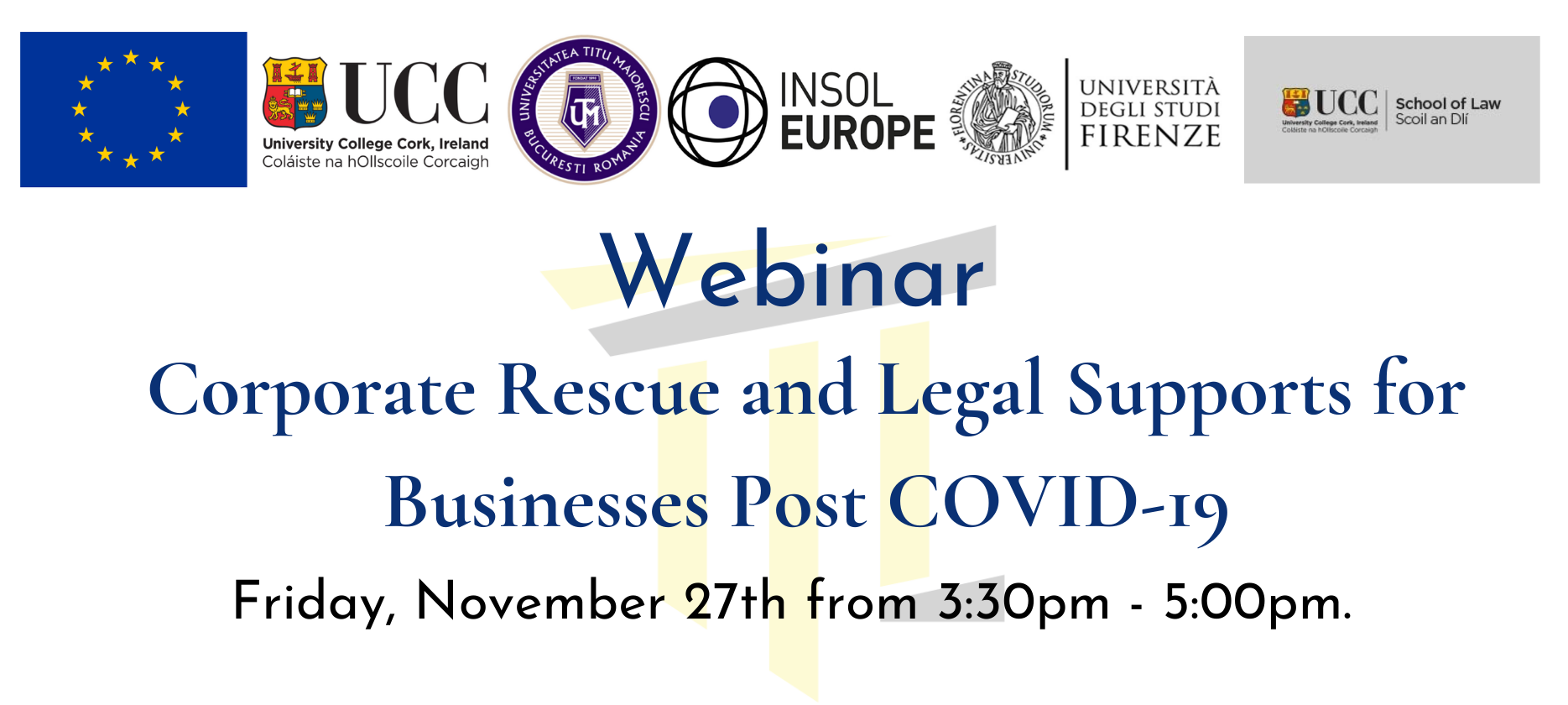 Join the JCOERE project for a webinar event, featuring three panel sessions with a broad range of speakers, discussing corporate rescue and preventive restructuring processes in Ireland and the European Union.
Note: This webinar event has now taken place. To watch the webinar video in full, click here.
The webinar will take place on Friday, November 27th from 3:30pm - 5:00pm. The event is registration only.
The event, convened by the JCOERE Project team and the UCC School of Law, will consist of three short panel sessions on preventive restructuring processes in Ireland including corporate rescue (recent developments in Examinerships and Schemes of Arrangement), recent European developments, particularly the UK and the Netherlands, in addition to legal supports for businesses post COVID-19 including prospects for a new rescue process for small companies.
The event will feature a broad range of speakers discussing these themes, and will include contributions from:
Opening remarks delivered by: Professor Mark Poustie, Dean of UCC School of Law
The Hon. Mr Justice Michael Quinn, High Court of Ireland and
The Hon. Mr Justice David Barniville, High Court of Ireland, discussing:
Recent Developments in Examinerships and Schemes of Arrangement
Moderator- Professor Irene Lynch Fannon, School of Law, UCC
Professor Gerard McCormack, University of Leeds and INSOL International Scholar and
Professor Reinout Vriesendorp, University of Leiden and De Brauw Blackstone NL, discussing:
New Rescue Processes in the UK and the Netherlands
Moderator - Dr. Jennifer Gant, JCOERE and School of Law
Neil McDonnell, Chief Executive of the Irish SME Association and
Barry Lyons, Solicitor for ISME, discussing:
Supports for Small and Medium Sized Enterprises Post COVID-19 including Prospects for Business Rescue
Moderator - Aoife Finnerty, JCOERE and School of Law
About the speakers
Mr Justice Michael Quinn
Mr Justice Michael Quinn was appointed a judge of the High Court in 2018. He is assigned to the Commercial Division and to hear examinership and insolvency matters under the Companies Act 2014. He is a Bencher of the Kings Inns in Dublin. Prior to his appointment he practised as a solicitor specialising in corporate restructuring and insolvency and was a CEDR accredited mediator. He is a Past President of INSOL Europe (the European Association of Insolvency Practitioners) and is Co-Chair of the Judicial Wing of INSOL Europe. He is a member of the Advisory Board of the EU Project on Judicial Co-Operation for Economic Recovery in Europe. He was a founder member and Chair of the Irish Society of Insolvency Practitioners.
Mr Justice David Barniville
Mr Justice David Barniville was appointed a judge of the High Court of Ireland in December 2017. He is currently the judge in charge of the Commercial Division of that Court. Prior to taking up that position he was the judge in charge of the Strategic Infrastructure Development list in the High court. He is also designated as the Arbitration Judge to hear all arbitration related matters in the High Court. In July 2018 he was appointed as a member of Ireland's National Group on the Permanent Court of Arbitration in The Hague. In December 2019, he was appointed as a member of the Board of Trustees of the Academy of European Law (ERA). He is a Bencher of King's Inns in Dublin and of Middle Temple in London and is a Governor and member of the Board of the National Maternity Hospital. Prior to his appointment to the High Court, David was in practice at the Irish Bar and was Chairman of the General Council of the Bar of Ireland (2014-2016).
Professor Gerard McCormack
Gerard McCormack is a Professor of International Business Law at the University of Leeds in the UK and a Visiting Professor at the University of Vaasa, Finland.
He is a UCD graduate (1982) and of the Kings Inns (1985).
In recent years he has specialised in corporate insolvency and secured credit law with particular reference to its international and comparative dimensions.
He has a number of publications in this area including Corporate Resce Law - an Anglo-American Perspective (2008) and European Insolvency Law (2017).
He has also worked with others and led on a number of funded projects including for the European Commission in a process that led to the European Restructuring Directive - Directive 2019/1023.
Professor Reinout Vriesendorp
Reinout Vriesendorp is part-time Professor of Insolvency Law at the Institute of Private Law (Department of Company Law) and the Institute of Tax Law and Economics (Department of Business Studies) as of 1 January 2016. At the Department of Company Law he gives various courses at the bachelor's, master's and advanced master's levels. His research is at the crossroads of private law, company law and business studies, mainly focused on legal norms (ex ante) and judgements (ex post) of the behaviour of directors, supervisors and other stakeholders in enterprises in financial distress.
Apart from his part-time tenure as professor of Insolvency Law at Leiden University, Reinout Vriesendorp is partner at the Netherlands-based law firm De Brauw Blackstone Westbroek. His expertise is in the areas of restructuring, corporate litigation and insolvency law.
Professor Vriesendorp is one of the founders and current editors of the Tijdschrift voor Insolventierecht (Dutch Insolvency Law Review) and a member of the editorial board of the International Insolvency Review. He lectures in professional post-graduate programmes at Grotius Academy in cooperation with INSOLAD, the professional association of insolvency specialists in the Netherlands. Reinout Vriesendorp is also a member of various professional associations, national and international (INSOL International and INSOL Europe). He occasionally lectures as visiting professor at the University of Melbourne. He is a member of the Dutch debt restructuring monitoring committee and chairman of the first instance licensing body of the Royal Dutch Football Association.
In the past, Professor Vriesendorp annotated a number of landmark Dutch Supreme Court judgments in the field of insolvency law in Ars Aequi, the Dutch student law review. He was a member of the Dutch government's Committee on Insolvency Law, which drafted a proposal for an entirely revised Insolvency Act. He was also substitute judge in the Court of Appeal of Amsterdam and, as such, a member of the Court of Discipline, the final Dutch disciplinary board of the Dutch Bar Association.
Neil McDonnell
Neil joined ISME Association as Chief Executive in 2016. He previously served as an infantry officer in the Irish Defence Forces, as a staff officer in Defence Forces HQ, and in operational roles in Lebanon and Cyprus.
Neil managed petroleum distribution operations for 12 years in Ireland for ExxonMobil, Topaz and smaller domestic customers.
He joined FTA Ireland as country general manager in 2013, and was instrumental in the forcing the (then) Department of Jobs and Enterprise, against trade union opposition, to introduce S.I. 342 of 2015. This enforced the application of EU rules on working time for mobile workers. He also managed the co-funding of the DPP-v-Perennial Freight appeal to the Court of Appeal in 2015. This overturned the State's interpretation of the Finance (Excise Duties) (Vehicles) Act 1952, resulting in a reduction in road tax for articulated vehicles from an average of €3,500 per annum to €500.
Since joining ISME, Neil has been especially active on the issues of insurance costs for small business, the introduction of a perjury act to tackle white collar crime, and the need for a comprehensive reform of Irish indigenous industrial policy.
Barry Lyons
Barry Lyons is a solicitor practicing in the area of corporate recovery for over twenty years. He has acted in a number of significant cases, including Re Thomas Gray Limited, Re Sharmaine Limited, Re Gallium Limited. He acted for the examiner in the first Circuit Court examinership introduced in the 2013 Companies Act (Celbridge Playzone Limited) and has since acted on many occasions. In 2014 he drafted a private members Bill that was designed to reduce the steps in, and consequent costs of examinership for Stephen Donnelly TD. Anticipating the need for it in the post COVID-19 economy, he advised ISME on ways to make the Irish corporate recovery mechanism less process committed, and as a result less costly. This has in part resulted in recommendations to amend the process made by the Company Law Review Group to the Tánaiste and Minister for Enterprise Trade and Employment.
Further details on this webinar (including the platform used) will be issued to attendees after registration.
For enquiries about this event, please contact i.lynchfannon@ucc.ie or molly.oconnor@ucc.ie.
The JCOERE Project (no. 800807) and this webinar is funded by the European Union's Justice Programme (2014-2020)