7th Annual Graduate Conference in Italian Studies
7th Annual Graduate Conference in Italian Studies
7th Annual Graduate Conference in Italian Studies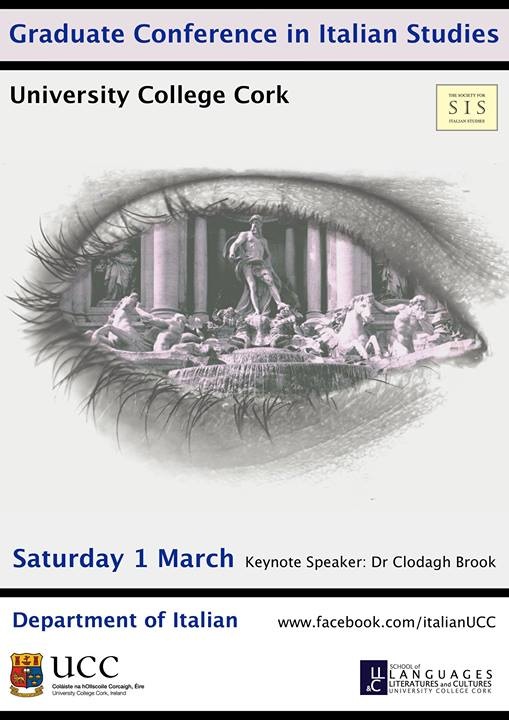 Graduate Conference 2014 Programme
Graduate Conference 2014 Abstracts
Saturday, 1 March 2014
University College Cork, Ireland
Keynote speaker:
Dr Clodagh Brook
(University of Birmingham)
Call for papers
Research graduate students (MPhil/PhD) working on Italian (or Italian-related) topics (in literature, film studies, gender studies, cultural studies, linguistics, history, art history etc.) are invited to present papers at this Italian Studies conference. The aim is to promote interdisciplinary dialogue and discussion of current research within the Italian Studies community in Ireland (and beyond).
Research graduate students (from Irish universities as well as from abroad) are invited to submit a 300-word abstract including title of paper, name, affiliation, and brief bio by 5 pm on Friday, 10 January to the following email address: uccgraduate2014@gmail.com. Papers are to be 20 minutes in length (maximum) and may be either in English or in Italian.
For information please contact:
Annette Feeney/ Mariangela Sanese
Department of Italian,
School of Languages, Literatures and Cultures,
University College Cork
Cork, Ireland
tel: +353 21 4902516
fax: +353 21 490 3263
Further details to be posted on website in January: http://www.ucc.ie/en/italian/Conferences/GraduateConferenceinItalianStudies/
Graduate Conference in Italian Studies
Sabato, 1 marzo 2014
University College Cork, Irlanda
Interverrà
Dr Clodagh Brook
(University of Birmingham)
Si invitano dottorandi che stiano lavorando su argomenti italiani (in letteratura, cinema, studi di genere, cultural studies, linguistica, storia, storia dell'arte, ecc.) a presentare la loro ricerca a questo convegno di studi. La finalità dell'incontro è quella di promuovere il dialogo e il confronto interdisciplinari nei vari ambiti della ricerca nel campo dell'italianistica in Irlanda (e oltre).
Gli studenti di dottorato (MPhil/PhD), provenienti da università irlandesi ed estere, interessati a partecipare dovranno inviare un abstract di 300 parole, inclusi il titolo della presentazione, il nome, l'istituzione presso la quale sono iscritti e una brevissima biografia entro venerdì, 10 gennaio al seguente indirizzo email: uccgraduate2014@gmail.com. La durata degli interventi non deve superare i 20 minuti e le relazioni potranno essere in italiano o in inglese.
Per ulteriori informazioni:
Annette Feeney/ Mariangela Sanese
Department of Italian,
School of Languages, Literatures and Cultures,
University College Cork
Cork, Ireland
tel: +353 21 4902516
fax: +353 21 490 3263
Il nostro sito web fornirà ulteriori informazioni a partire da gennaio: http://www.ucc.ie/en/italian/Conferences/GraduateConferenceinItalianStudies/