News
News
UCC launch CampusConnect app to integrate incoming applicants with their peer communities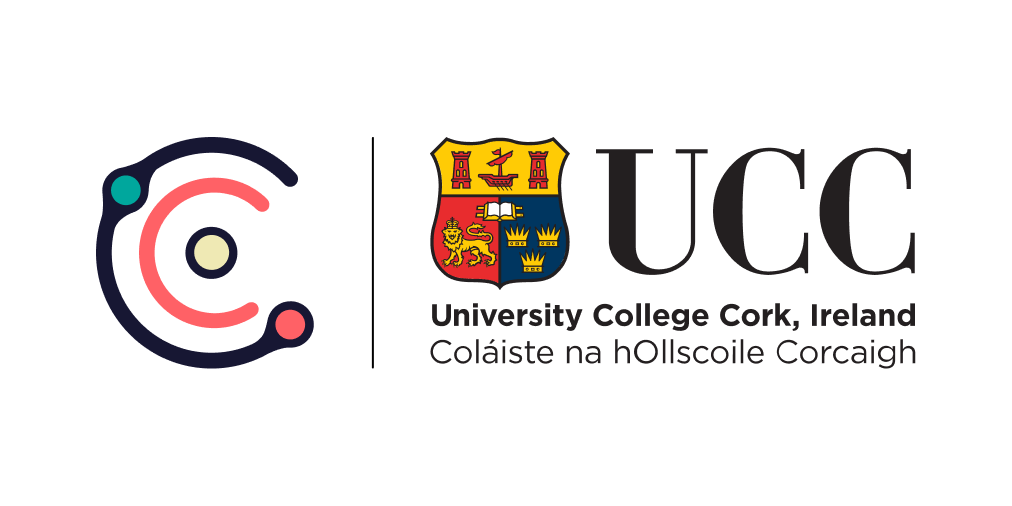 In June 2021, University College Cork partnered with CampusConnect to launch an entirely digital service to enhance support of international students in their transition into Ireland and the University. Through the app or browser platform, offer holders are now able to build networks and friendships with peers, gaining vital support in the lead-up to enrolment. Moreover, the high-quality instant communication channel allows applicants to stay informed of the latest developments.
"We know that students are comfortable on mobile platforms, and that they expect a range of channels for communication. This service provides a convenient, quick, and informal opportunity to share ideas and to pose questions. UCC takes pride in the sense of community amongst students and staff; this service helps to welcome incoming students into the family even before they physically arrive," notes Dr. Christopher Brown, Director International at UCC.
With the effects of the pandemic altering opportunities for students to meet in person, it's more important than ever for universities to provide alternative solutions for integrating incoming students. Similarly, students arriving from overseas need reassurance from peers that there will be somebody to share this experience with, to provide mutual support and to reassure them that they're not alone.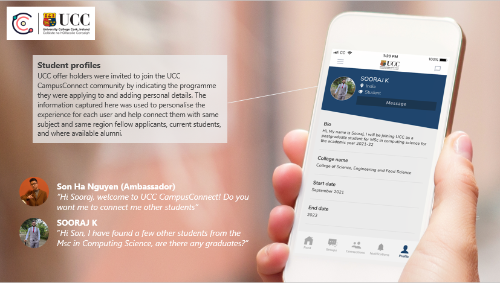 Jatin, an incoming student from India commented: "This app has been really useful. It has helped me connect to a lot of people who've been really helpful in the process - and I'm already friends with them!"
UCC opted for groups based on colleges and countries to help incoming students find those with commonalities between them. These groups have already seen students pool together to organise accommodation, share tips on country-specific insurance and bond over the feeling of being 'in the same boat'. As well as incoming students, the chat groups are facilitated by ambassadors, who are current students and alumni of the University. With experience of studying at UCC, ambassadors have been advising on course materials, mobile phone contracts, and important updates from the University. Detailed insight into applicant progression and engagement helps guide where most support is required at any given time.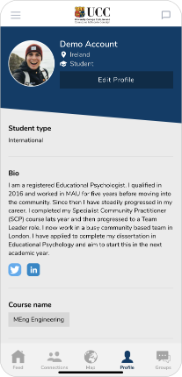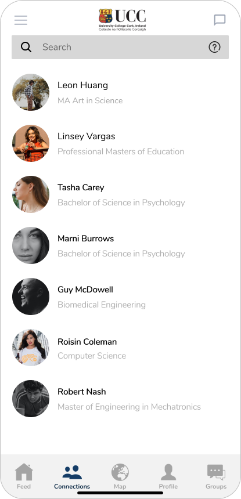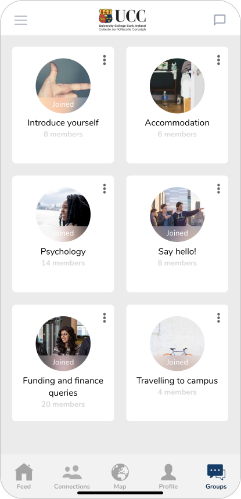 Leveraging current and former students as ambassadors helps the University to strengthen its alumni links, whilst helping current students to gain sought-after skills for life beyond their studies. By acting as ambassadors, these students are supported in developing in areas such as leadership, cross-cultural engagement, digital communication and virtual networking. Dan Hinkley, co-founder of CampusConnect, ran workshops in March and April alongside University staff to upskill ambassadors and ensure they were confident in their roles.
Tarun, a current ambassador from Thailand, told us why he enjoys his role: "I take every opportunity to meet and learn from new people, which is why I became an ambassador. I'll be able to help students navigate their journey using the latest experience I've had."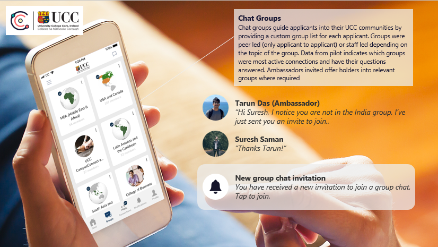 International Communications Advisor Sharon Dillane reflected on the roll-out of UCC CampusConnect: "Gen Z are very much digital natives, that is where they live and engage with information and brands. CampusConnect allows new UCC students to quickly and easily become part of a supportive university community that provides a sense of belonging and reassurance throughout the arrival and settling-in phase of their student journey. A digital first approach, and giving new students the opportunity to build digital communities and friendships is critical, now more than ever given these challenging times.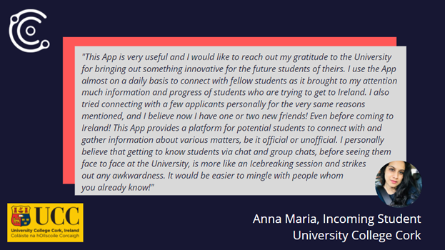 CampusConnect for international undergraduate applicants went live on June 10th 2021. Over 500 applicants have so far downloaded the app and over 13,000 public and direct messages have been exchanged between applicants and student ambassadors. This demonstrates the power of digital peer communities in helping students to feel more confident and prepared as they transition to higher education.