News
News
'Utter Disloyalist' by Dr Donal O'Drisceoil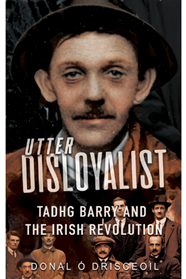 Tadhg Barry was the last high-profile victim of the crown forces during the Irish War of Independence. A veteran republican, trade unionist, journalist, poet, GAA official and alderman on Cork Corporation, he was shot dead in Ballykinlar internment camp on 15 November 1921.
Barry's tragic death was a huge, but subsequently largely forgotten, event in Ireland. Dublin came to a standstill as a quarter of a million people lined the streets and the IRA had its last full mobilisation before the Treaty split. The funeral in Cork echoed those of Barry's comrades, the martyred lord mayors Tomás MacCurtain and Terence MacSwiney.
The Anglo-Irish Treaty was signed three weeks later, all internees were released and the movement that elevated him to hero/martyr status was ripped asunder in the ensuing civil war. The name of Tadhg Barry became lost in the smoke.
This is the first biography of a fascinating activist described by his British enemies as an 'Utter disloyalist' and by a comrade as 'a characteristic product of Rebel Cork – courageous, kindly, generous to a fault, bold and daring, and independent in speech and action'. It offers fascinating new perspectives on the dynamics of Ireland's long revolution, including glimpses of the roads not taken.
Donal Ó Drisceoil is a Senior Lecturer in History at University College Cork. He has published widely on modern Irish history and is an editor of the award-winning Atlas of the Irish Revolution (2017).
https://www.mercierpress.ie/irish-books/utter-disloyalist/