News & Events
News & Events
'Frontiers in Agri-Food Science: Addressing the Problems of Today for a Brighter Tomorrow'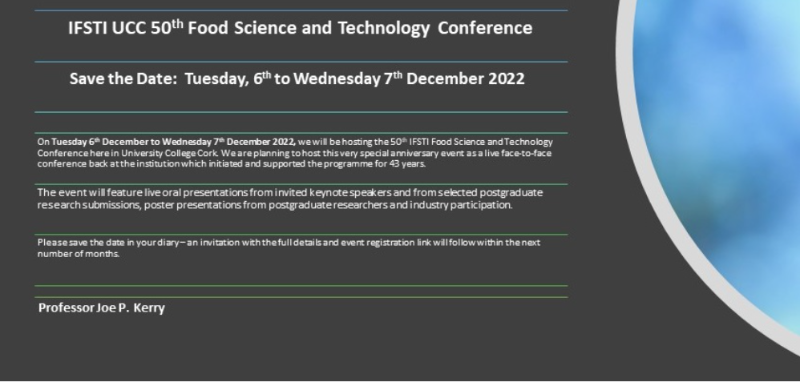 IFSTI UCC 50th Food Science and Technology Conference
'Frontiers in Agri-Food Science: Addressing the Problems of Today for a Brighter Tomorrow'
Tuesday, 6th to Wednesday 7th December 2022 
The 50th Annual Food Science and Technology Conference, hosted by University College Cork (UCC) and the Institute of Food Science and Technology of Ireland (IFSTI), is taking place at UCC on 6th and 7th December 2022 in a live, face to face format and returning to the institution which initiated and supported the programme for over 40 years. The conference focuses on providing opportunities for young scientists (postgraduates) to present their research in oral and poster formats and is a unique event in this regard. At this event, early-stage researchers will be given insights into the exciting opportunities available in the food area and how to avail of them, through networking and knowledge exchange. This year marks a special occasion for the conference as we are celebrating 50 years of supporting its initial objective of growing our future food/beverage scientists.
To mark the occasion of the 50 th anniversary, UCC will host a Conference Banquet which will take place in the Aula Maxima, UCC on the evening of 6 th December. Professor Patrick Fox – one of the founding members of the Conference will present its 50-year history of providing a presentation forum for new generations of Food Scientists and Food Technologists – many of whom have been introduced to their careers through this event.
The title of this year's conference is 'Frontiers in Agri-Food Science: Addressing the Problems of Today for a Brighter Tomorrow' and will be informed by research areas pertaining to Advances in Food Chemistry and Technology, Food Processing and Technological Innovations, Food Safety and Quality, Nutrition and Healthy Ingredients, Food Business and Marketing, and Sustainable Food Production. Therefore, it is an extremely broad food focused program which is packaged under a number of specific conference themes.
Following all of the disruption that Covid has inflicted upon society and our own scientific community in recent years, I hope that you will take the opportunity to come to UCC on December 6th and 7th of December, 2022 to celebrate the 50th anniversary of this special conference but more especially, to meet and see one another again in the flesh without the requirement of virtual aids. It is time to meet, engage with science and have a party! We look forward to seeing you all in UCC in December 2022.