News Archive
News Archive
Spring School for Environmental Studies – Kyoto, Japan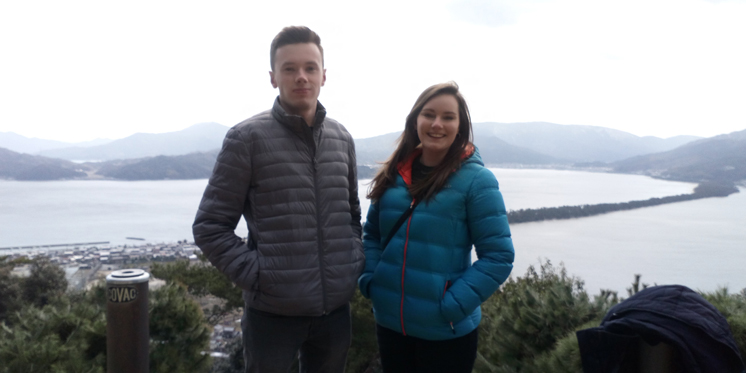 Participation by three CRAC researchers
Words by: Eimear Heffernan
In February 2018, two members of the Centre for Research into Atmospheric Chemistry (CRAC) Lab - Niall O'Sullivan and I - were afforded the opportunity to travel to Japan to participate in the 'International Spring School for Environmental Studies', run by Kyoto University Graduate School of Global Environmental Studies (GSGES). The interdisciplinary programme brought together 20 researchers from various countries for special lectures, field studies and laboratory visits over a period of three weeks. The scholarship allowed us to understand and expand our knowledge of the environmental issues in daily life, and the efforts being made in Japan to lessen the adverse effects that mankind has on the environment, and also to establish a number of links with researchers from around the world.
We attended a number of special lectures given by professors at GSGES, who gave a summary of their research topic and explained the latest developments in their respective fields, and our own Prof. John Wenger was invited to give a guest lecture on air quality and climate change during the second week. The research being carried out is wide ranging and includes environmental engineering, marine ecology, atmospheric chemistry, agronomy and soil science. On designated days, we visited each of the professors in their labs, where they introduced us to their group, the wide array of technology and instruments they have at their disposal and allowed us to partake in a typical activity relevant to their research.
Throughout the three weeks, we visited various places of interest in neighbouring prefectures. Our first field trip was to Lake Biwa, Japan's largest lake and supplier of water to over 20 million people. Here we were introduced to sakè, a traditional Japanese rice wine. In Maizuru, we learned about the differences in marine ecosystems in Maizuru Bay, a sheltered bay on the west coast and the Sea of Japan, by dredging the seabed and identifying the organisms collected. In the mountainous, snow covered region of Kamiseya, we learned about the communal work involved in rice harvesting and the traditional preparation of various dishes.
In the city of Kyoto; the former imperial capital, and the Kansai region, we gained an insight into the amazing culture and heritage Japan has to offer. We visited a number of Buddhist temples, Shinto shrines, as well as palaces and gardens, many of which are listed by UNESCO as World Heritage Sites. The stunning oriental architecture was incomparable to anything we had previously experienced, and so needless to say, we had cameras at the ready every day! Kyoto is also renowned for its abundance of Japanese foods and cuisine, a number of which were tried and tested; sushi, sashimi, shark, octopus, tofu, seaweed – the list is endless! We couldn't recommend a trip to Kyoto highly enough, it's a fascinating city.