News 2016
News 2016
SFI Investment in Research Equipment and Facilities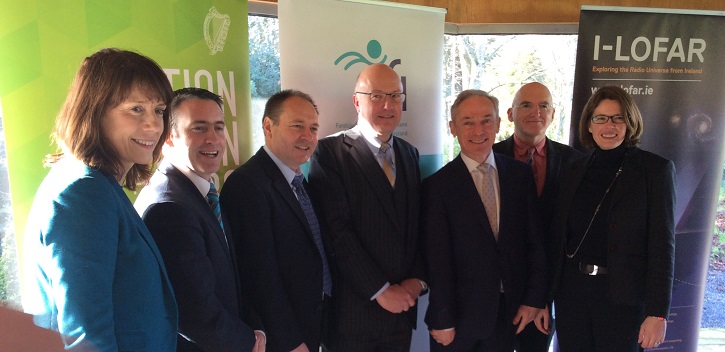 University College Cork received €8,682,332 or 30% of the €28.8m for funding research infrastructure as announced by Ministers Bruton and English and the SFI yesterday (Tuesday 12 Jan). UCC researchers are leading or involved in eight of the 21 chosen projects.
One of the projects, led by Prof. John Wenger, will see investment of €1,067,431 for a new Irish Atmospheric Simulation Chamber (IASC) Facility located in the Centre for Research into Atmospheric Chemistry (CRAC). IASC is a new national facility specially designed to support world-leading research activities in the key strategic areas of atmospheric and materials science. Based at University College Cork (UCC), the IASC Facility will consist of a large custom-built chamber equipped with cutting-edge instrumentation to enable innovative studies on air pollution and climate change. It will also serve as an advanced testbed for novel atmospheric monitoring techniques, emerging sensor technologies and depolluting materials. The facility will promote new research synergies, increase Irish competitiveness in the European Research Area, while also impacting strongly on environment, health and the economy in Irish society.
Another project, led by Prof. Anita Maguire, will see investment of €1,041,394 in SPCC on Process Flow Spectroscopy Facility (ProSpect). ProSpect is a state-of-the-art advanced analysis facility, allowing real-time direct observation of pharmaceutical process reactions as they occur – the first of its kind within the EU. The facility will consist of a suite of integrated analytical instrumentation including MRI technology, which will provide unprecedented mechanistic insight into pharmaceutical reactions, thus leading to safer drugs at reduced cost for both the manufacturer and the patient. Operating within the SSPC, ProSpect will offer researchers and the pharmaceutical industry in Ireland a unique competitive technical advantage, thereby enhancing Ireland's reputation as a leading location for state-of-the-art pharmaceutical process chemistry.