News 2015
News 2015
SFI TIDA Award For Lisa Helen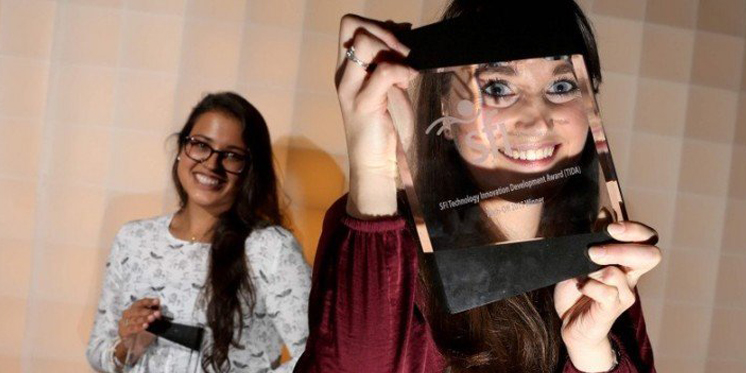 A 'smart needle' loaded with sensors to determine the needle's proximity to nerves under the skin took top prize at Science Foundation Ireland's (SFI) TIDA awards. Lisa Helen, a UCC Chemistry PhD researcher at Tyndall in UCC, developed the idea, which could help to reduce nerve damage following inadvertent injections from needles.
Helen saw off Trinity's Dr Sharee Basdeo, whose 'Irish seaweed for transplant tolerance' looks at using seaweed as a natural, non-toxic treatment for patients who have received an organ transplant. Lisa's PhD on the 'Smart' Needle is funded by the Irish Research Council Government of Ireland Postgraduate Scholarship.
The SFI TIDA programme (the Technology Innovation Development Award) aims to realise greater economic impact from state investments in research. The 'pitch-off' competition involved eight TIDA-funded researchers pitching their technology or commercialisation ideas for further development support from SFI. Of the eight finalists – which included projects relating to oesophageal cancer, pig nutrition and non-invasive urine tests – seven were women, which SFI's director Mark Ferguson was quick to note.
"There is a challenge to attract women into STEM careers, but last night highlighted that change is in the air and a very positive contribution is increasingly being made by women," he said. "I really hope that they serve as an inspiration for more women to consider a career in STEM."
The full list of competing pitches:
Lisa Helen, Tyndall National Institute at University College Cork, 'Smart needle to determine needle to nerve proximity'
Dr Sharee Basdeo, Trinity College, 'Irish seaweed for transplant tolerance'
Dr Niamh McCormack, Maynooth University, 'New drugs to target HIV'
Dr Antoinette Perry, Trinity College Dublin, 'epiCaPture: a non-invasive urine test for early detection of aggressive prostate cancer'
Dr Sandesh Swamidatta, NUI Galway, 'Yeast-based feed supplements for Pig Nutrition'
Dr Jennifer Mahony, University College Cork, 'Rapid detection of bacterial viruses for application in the dairy industry'
Dr Niamh Lynam Lennon, Trinity College Dublin, 'Improving treatment for oesophageal cancer patients'
Rachel Gleeson, University of Limerick, 'Powering the Internet of Things'