About
About
About BEES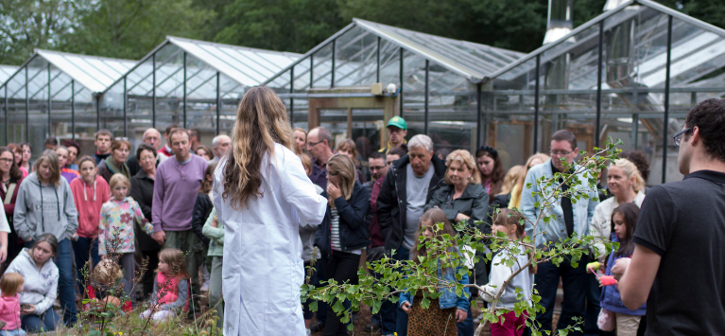 About
The School of Biological, Earth and Environmental Sciences (BEES) comprises diverse specialities covering marine, terrestrial and fresh water environments.
BEES is a recognised leader in teaching and research across all of our disciplines. You can find out more about BEES Teaching and BEES Research on this site.
The School was formed in 2010 through the amalgamation of the former Department of Geology, Department of Zoology, Ecology and Plant Science (ZEPS) and the Environmental Science Programme at University College Cork.
View the School of BEES Information Brochure here.
‌
Mission Statement
To advance and apply our understanding of the natural world through excellence in research, teaching and innovation
- BEES Mission Statement

Location
The School of BEES is located on the Distillery Field Campus, a short distance from the main UCC campus on Western Road.

For details on how to get to UCC see here.
For a full map of UCC campus, including the location of BEES,see UCC CAMPUS MAP (pdf)

Map of Distillery Field Campus:
note: access via the pedestrian walkway is generally from 8am - 5.30pm only

Social Media
You can follow the School of BEES on our official Facebook and Twitter sites.
Job Opportunities
See UCC Human Resources for more information on all available posts.
Research Assistant Post (10% of FT)
| | |
| --- | --- |
| College | SEFS |
| School/Research Centre | BEES |
| Post Title | Research Assistant |
| Project Title | Exploiting narrow-band UV-LEDs for Sustainable, Innovative, Technology-Enabled Cropping |
| Name of Principal Investigator | Prof Marcel Jansen |
Position Summary:
A 58-month SFI-funded Research Assistant (RA) post is available in the School of Biological, Earth, and Environmental Sciences at University College Cork to support a project that focusses on developing novel UV-emitting LEDs for use in horticulture. The project is a collaboration between Prof Marcel Jansen (http://plantstress.ucc.ie/), and Dr Alan Morrison http://research.ucc.ie/profiles/D013/amorrison).
The project will exploit novel ultraviolet (UV)-emitting LEDs to pioneer a new form of precision horticulture. UV light can improve crop quality in terms of nutritional quality, plant architecture and resistance to pests. This has positive impacts on the sustainability of food production, and human health and well-being. The SFI-funded study will develop state-of-the-art LED technology that will enable manipulation of UV doses and spectra, and advance our understanding of how plants respond positively to UV-wavelengths which, until now, has not been possible due to the limitations of current UV-technologies. This pioneering combination of electronic engineering and plant biology will generate innovative technology enabling the horticultural industry to sustainably grow crops with enhanced quality.
This is a part-time (10% of FT), 58-month fixed-term post. Pay is according to the UCC Research Assistant scale. Actual working hours may vary between months, and the applicant must be able to adjust working hours in response to the requirements of the project. The successful applicant must be available to start February 1st, 2018.
Salary: €28,360 - €36,146 pro rata
Post Duration: 58 months
Research Assistant
This title will apply to a person of appropriate qualifications e.g., BSc or an MSc, employed on a contract for the purpose of assisting in the performance of research in the University. A Research Assistant will usually work under the direction of one or more Principal Investigator's/Senior Researchers within a dedicated laboratory on one or more research projects.
Key duties and responsibilities
To work under the direction of the Principal Investigator/Project Leader.
To support the Principal Investigator with the management of the grant, including financial, staff and resource management.
To coordinate and perform the outreach of the SFI funded research project, including scientific report writing, website development and management, creation of outreach material.
To perform other related duties incidental to the work described herein.
Criteria
A master's degree with a specialisation in plant biology or horticulture (essential)
Experience in website design, and management (essential)
Experience in electronic outreach, including blogging and tweeting (essential)
Experience in editing and writing of scientific reports (essential)
Experience in research project administration at UCC (essential)
For Informal Enquiries on the post candidates should contact:
Name: Marcel Jansen
Title Professor
Email Address: M.Jansen@ucc.ie
To Apply:
Please email a short cover letter and C.V. to Prof Marcel Jansen at m.jansen@ucc.ie on or before the closing date of January 29, 2018 at 9am.