Mara Tesorieri
Mara Tesorieri
Mara Tesorieri
Mara Tesorieri (PhD Candidate)
Health in the Medieval World: Regionality and the bioarchaeology of Ireland and Britain
Supervisor: Dr. Barra Ó Donnabháin
Biological Anthropology and Bioarchaeology Research Group
E-mail: maratez@hotmail.com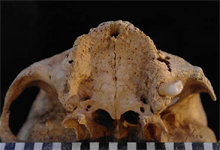 ‌
Mara is a bioarchaeologist based at the University College Cork where her doctorial research is currently being undertaken. The research, entitled 'Health in the Medieval World: Regionality and the Bioarchaeology of Ireland and Britain in the Middle Ages', seeks to present a regional comparison of health within Irish and British populations from the early medieval period. Her research interests include Prehistoric and Medieval health, specifically focusing on non-specific health indicators, infectious and metabolic diseases. She has taken part in excavations all over Ireland and has provided osteoarchaeological analysis and reports for archaeological companies throughout the country. Along with her own research, Mara has taken part in several research projects including; INSTAR: People of Prehistoric Ireland in association with Queen's University Belfast, and the Poulnabrone Project in association with the Department of Environment. Mara is currently a member of the British Association of Biological Anthropology and Osteoarchaeology, the Irish Association of Professional Osteoarchaeologists, the American Association of Physical Anthropologists, the Paleopathology Association and the American Society for Irish Medieval Studies.
This study will provide the first assessment of the impact of regionality on the health of populations in early medieval Ireland and Britain using bioarchaeological methods to explore differences within and between the islands. Bioarchaeology, the contextualised study of archaeologically-retrieved human skeletal remains, is a relatively novel addition to the means by which archaeologists reconstruct the dynamics of past societies. Despite nearly two decades of bioarchaeological research in Ireland and Britain, little attention has been paid to regionality, even though the study of regions – which are defined and shaped by contact, trade, terrain, and disputes among people – has revealed that cultural, environmental and geographical differences impact health. Previous studies in health trends of early medieval Ireland, England, Scotland and Wales have pooled data to discuss "British" health, despite the fact that regional work in historical studies has provided evidence of distinct regional identities within Ireland and Britain, produced by the very different histories of the two islands. My research will for the first time test the validity of the assumption that skeletal remains from the two islands can be incorporated into one large data sample for health trends.
To achieve this, I will analyse and compare a number of markers of physiological stress across a range of archaeologically-retrieved skeletal collections from early medieval Ireland and England, Scotland and Wales. Stress indicators analysed in the project include porotic hyperostosis and cribra orbitalia, dental enamel hypoplasia, antemortem tooth loss, tibial periostitis, and stature. Research from tropical, sub-tropical, and temperate climates has shown that climate has no affect on overall health. In fact, climate was the only variable tested which showed no relevance, while all others appeared to have some involvement, including the size of the community, urban vs rural, diet (hunter/gatherers vs farmers), elevation, and terrain (Steckel & Rose 2002:563-579). My study will therefore proceed from the basis that any differences in biological responses relate to variations in the cultural environment. I will carry outinter-regional comparisons of Irish, English, Scottish, and Welsh collections. Once differences within the islands are quantified, a comparison between the islands will be carried out. Due to my project's novelty, the study will form a baseline for any future comparisons both within and between the islands and will allow for a more truly contextualised study of health within and between the islands.