Aurelien Burlot
Aurelien Burlot
Aurelien Burlot
Aurelien Burlot (MPhil Candidate)
Ireland and France in the third Millennium BC
Supervisor: Prof. William O'Brien
Prehistoric Transitions Research Group
E-mail:111704665@umail.ucc.ie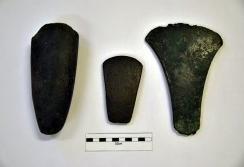 During the Neolithic period, evidence of contacts between different parts of Europe is illustrated by long distance exchange of artefacts, but also by the construction of megalithic structures. Research regarding passage tomb building during the fourth millennium BC, show that ideas and people travelling along the Atlantic façade from Iberia to Ireland and Britain, resulted in comparable monuments and similar megalithic art styles (Shee Twohig 1981). Through the first half of the third millennium BC, evidence of contacts between the Continent and the two islands appears to have ceased. Instead, new belief systems travelled across the Irish Sea, with the construction of henges and the erection of timber circles, associated with Grooved Ware ceramic, often in the vicinity of older passage tombs.
During the second half of the third millennium BC, renewed contacts with the Continent is evident by the introduction of copper metallurgy in Ireland. In France, the earliest evidence of metallurgy has been determined in the southern Languedoc region, within pre-Beaker communities, probably with influences from Iberia c. 2700 BC. Once metallurgy was adopted, it spread northward along the Atlantic coast reaching north-western France and Brittany in particular, where Beaker contexts are the earliest. Similarly, the earliest evidence of metallurgy in Ireland can be associated with the Beaker culture, and the discovery of copper mines and a metalwork camp at Ross Island, Killarney, Co. Kerry (O'Brien 2004). Scientific analyses of early Irish copper artefacts indicate that, the arsenicated copper from Ross Island was distributed across Ireland and Britain at this time. The use of such metal is similar to other early Iberian and French metal artefacts, and this suggests a continental origin of the technology to Ireland.
While Brittany is rich in metal sources, chemical analyses have demonstrated that early metal objects were imported, some from south-western Ireland (Briard and Maréchal 1958; Briard 1965). The Beaker connection between the two regions is also evident with similar funerary practices. In north-western France, Beaker people used older gallery graves (dolmens angevins, allées couvertes, 'V-shaped'tombs) from the late fourth / early third millennium BC; while in Ireland the tradition of building megaliths , such as wedge tombs was revived during the Chalcolithic period c. 2500 BC. Also, Irish-inspired gold objects such as lunulae have been discovered in north-western France. However, due to lack of contextual evidence, these finds remain challenging to date. That said, the decoration styles is reminiscent of Beaker art, and may have been inspired from works by Irish goldsmiths who also traded with Britain, where lunulae have also been discovered. The connection here may be associated with natural tin resources. For instance, it is evidence from the archaeological record that tin bronze was introduced to Ireland and France c. 2200 BC, and south-western England had rich deposits of tin. Cornwall and Devon may have become trading centres, possibly under the control of the Wessex culture, which shares similarities with the Armorican Tumulus culture of Brittany. While Late Neolithic contacts between Ireland and north-western France may have been direct, during the Early Bronze Age, the interactions seem to have been through a 'middleman,' controlling valuable tin resources from England.
The aim of this research is to determine if, north-western France officiated as a 'springboard' for the spread of metallurgy, between continental cultures who had a well-established knowledge of the technology, and Ireland, with its rich deposits of arsenicated copper in the Cork/Kerry region. Also, the role played by Beaker-using people is going to be analysed, in order to understand their role in the spread of metallurgy. The reinvention of building megalithic tombs during the Chalcolithic in Ireland, is going to be examined in contrast with Beaker depositions in gallery graves in France, as well as the importance of south-western Britain during the Early Bronze Age and its tin deposits. Part of the research will have to be concentrating on archaeological evidence from Ireland, but also from France. This is necessary to access excavation reports, review material of Irish origins such as copper artefacts and lunulae, and examine metal sources in Brittany for evidence of production and trade. Its objective is to demonstrate if there was a 'French connection' to the introduction of metallurgy in Ireland, during the mid-third millennium BC and its subsequent role in metal trading in north-western Atlantic Europe.
Briard, J. 1965. Les Dépôts Bretons et l'Âge du Bronze Atlantique. Imprimerie Becdelièvre, Rennes.
Briard, J. and Maréchal, J.-R. 1958. Etude technique d'objets métalliques du Chalcolithique et de l'Âge du Bronze de Bretagne. Bulletin de la Société préhistorique de France 55 (7-8), 422-30.
O'Brien, W. 2004. Ross Island. Mining, Metal and Society in Early Ireland. Bronze Age Studies 6, Galway.
Shee Twohig, E. 1981. The Megalithic Art of Western Europe. Clarendon press, Oxford.