News
News
UCC Rugby to host SSI Rugby Finals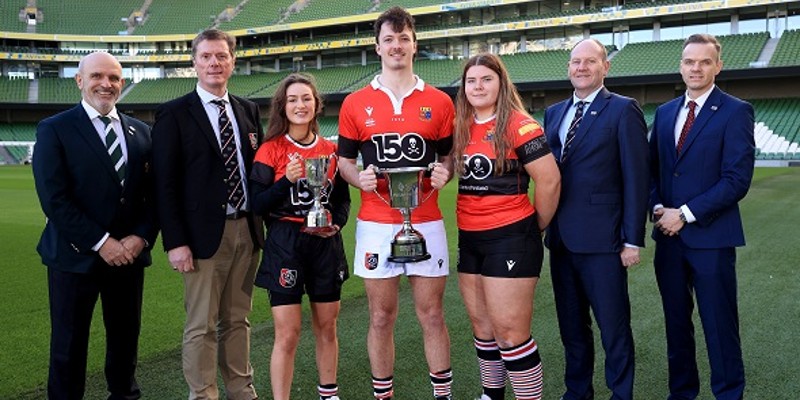 Student Sport Ireland and the Irish Rugby Football Union are delighted to announce the full schedule for the finals of this years men's and women's rugby cup competitions, that will take place on March 15th in University College Cork venues The Mardyke and The Farm. The host club University College Cork are hosting the finals day as part of their 150th year celebrations of the clubs establishment, Student Sport Ireland and the Irish Rugby Football Union would like to thank them for the cooperation in organising this years finals.
Both the Brendan Johnston Cup final and the Women's Tier 1 Cup Final are repeats of the finals from March 2022. Defending Brendan Johnston Cup champions Dublin City University are up against South East Technological University Carlow who are previous winners under their old title I.T. Carlow. The champions D.C.U. qualified for this years final with a 43-3 win over University of Limerick in round 1, a round 2 win of 45-22 over Garda College and a semi-final victory of 55-7 against Technological University Dublin. South East Technological University Carlow have also clocked up big scorelines enroute to the final with a 51-18 victory over TUS Midwest in Round 1, a second round triumph of 55-0 over Technological University Dublin and then a very impressive semi-final win over Garda College on a 42-5 scoreline. In last years final D.C.U. were winners on an 18-15 scoreline, while the most recent meeting between the two sides came in Division 1 before Christmas with South East Technological University Carlow coming out on top 37-7. It will be interesting to see if the high scoring continues in the final and if it does then a blistering final is in prospect, when it kicks off at 5pm in The Mardyke, University College Cork.
Dublin City University are also the defending champions ahead of this years SSI/IRFU Women's Rugby Tier 1 Cup Final and they will once again come up against old rivals University College Dublin in the final. In last years decider it was a brilliant decider that was won by D.C.U. on a narrow 17-15 scoreline. The sides have already played twice this season with U.C.D. coming out as winners on both occasions. In the Division 1 league U.C.D. won 22-19, while a meeting three weeks ago in the group stages saw U.C.D. win 24-22. Another very competitive final is in place and this game kicks off at 7.30pm in The Mardyke, University College Cork.
The finals day gets underway at 12pm in The Farm, UCC in the Women's Tier 3 Cup Final as Munster Technological University Cork take on Technological University Shannon Midwest in our first ever final in this grade. At 12.30pm in The Farm Atlantic Technological University Sligo take on Ulster University Belfast in the Men's Tier 3 Cup final. University College Cork are represented on home soil in both Tier 2 Cup finals as their women take on University of Galway at 1.30pm in the Farm, when these sides met in the group stages in U.C.C. the home side came out on top 34-24. At 2.30pm in the Farm, Atlantic Technological University Galway take on University College Cork in another repeat fixture from the group stages in the Men's Tier 2 Cup final, when the sides met earlier in the competition U.C.C. were narrow 23-17 winners.
Student Sport Ireland / Irish Rugby Football Union Cup Finals Schedule
The Farm, UCC 12pm Women's Tier 3 Cup Final – Munster Technological University Cork v Technological University Shannon Midwest
The Farm, UCC 12.30pm Men's Rugby Tier 3 Cup Final – Atlantic Technological University Sligo v Ulster University Belfast
The Farm, UCC 1.30pm Women's Rugby Tier 2 Cup Final – University College Cork v University of Galway
The Farm, UCC 2.30pm Men's Rugby Tier 2 Cup Final – Atlantic Technological University Galway v University College Cork
The Mardyke, UCC 5pm Brendan Johnston Cup Final – Dublin City University v South East Technological University Carlow
The Mardyke, UCC 7.30pm Women's Rugby Tier 1 Cup Final – Dublin City University v University College Dublin