2017
2017
Out of Africa: Spanish Language & Identity in Post-Colonial Africa & Beyond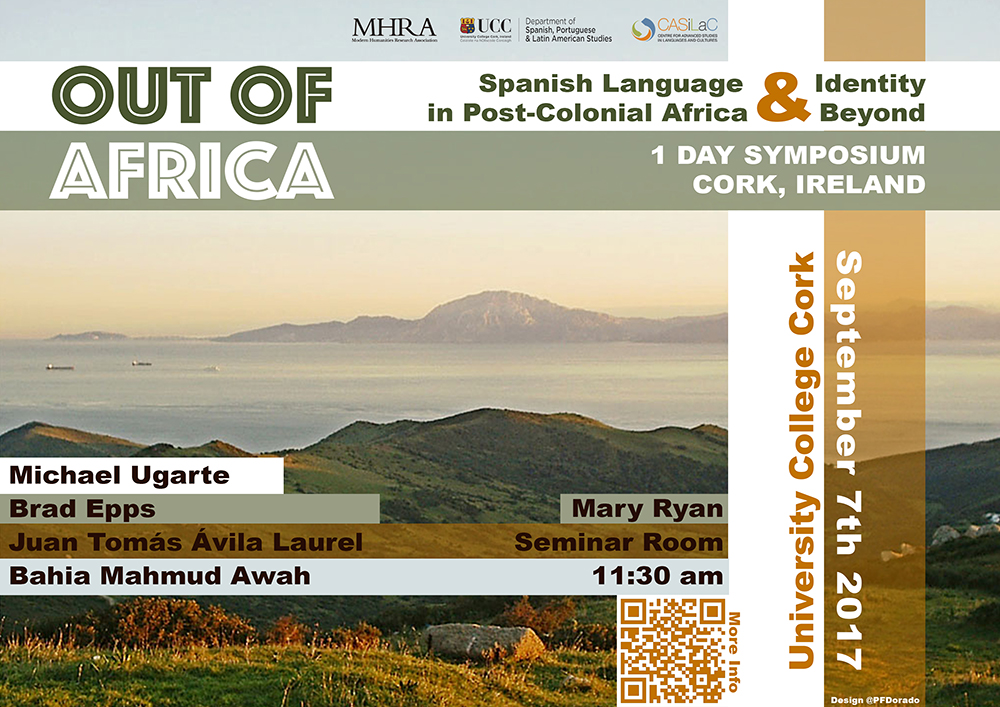 September 7th – from 11:30 – Mary Ryan Seminar Room
This one-day symposium, supported by the MHRA, the Centre for Advanced Studies in Languages and Cultures and the Department of Spanish, Portuguese and Latin American Studies will bring together, for the first time in Ireland, a cross-disciplinary gathering whose focus will be the long-neglected area of Afro-Hispanic language and identity. Incorporating themes such as migration, displacement, postcolonialism and sociolinguistics, this symposium aims both to increase awareness of a research area which is worthy of much more extensive and deeper study, and to facilitate a discussion of key topics that are becoming ever more relevant in the twenty-first century: migratory flows, diasporic identity and the role of language in facilitating integration.
At this symposium, through the contributions of Michael Ugarte, who has carried out extensive research into Equatorial Guinean diasporic identity within Spain, and of the award-winning novelist Juan Tomás Avila Laurel, who is living the reality of displacement in Spain, and writing extensively about the current situation in Equatorial Guinea, it is hoped that our joint exploration of this topic will lead to a new, collaborative approach which has the potential to make a significant contribution to Afro-Hispanic research.
The presence of Bahia Mahmud Ahwa will play a crucial role in widening the scope of our symposium, and making it a truly African one. There is a dearth of work on Spanish language usage in the Western Sahara and in the refugee camps beyond its borders, and his work, together with that of Ugarte, has provided a unique insight into notions of postcolonial identity, and the role of the Spanish language as both a unifying factor amongst the displaced and a means of resistance.
Carlos Garrido Castellano, in his presentation, will compare art exhibitions dealing with the continuities of Portugal and Spain's imperial past and produced during the last two decades in the Iberian Peninsula. It will analyze how curatorial practices deal with coloniality and, more specifically, with the legacies of colonialism and imperialism in present-day Iberia. Carlos is FCT Post-Doctorate Researcher at the Centre for Comparative Studies of the University of Lisbon. His research focuses on Socially-Engaged Art, Curatorship and Postcolonial Theory. Currently he is the main researcher of the research project "Comparing We´s. Collectivism, Emancipation, Postcoloniality." He has done extensive fieldwork research in the Caribbean area, the United States and Africa, and has collaborated with journals such as Third Text, Social Identities, Travessia, Anthurium or Cultural Dynamics.
Brad Epps is Professor of Spanish and Head of the Department of Spanish and Portuguese at the University of Cambridge, and has published extensively on modern literature, film, art,architecture, urban theory, queer theory, and immigration from Spain, Latin America,Hispanophone Africa, and Catalonia.
This symposium will provide a unique opportunity for scholars and thinkers from a variety of new and exciting research areas to meet and exchange views, and thus contribute significantly to the growth of knowledge in this area.