2015
2015
Memory and the Body in Contemporary Catalan Documentary Cinema 5th Documentary Film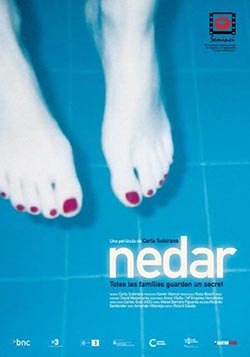 Monday February 16rd – Kane Building B10A – 18:00 h
The Department of Spanish, Portuguese and Latin American Studies is delighted to present the fifth documentary film of the series:


Memory and the Body in Contemporary Catalan Documentary Cinema




Nedar

Carla Subirana (2008)

(Movie in Catalan with English subtitles)


Monday February the 16th – Kane Building B10A – 18:00 h



Carla Subirana
Carla Subirana is a Catalan scriptwriter and film director with a degree in Audiovisual Communication from Pompeu Fabra University. She was inspired to work in the field of documentaries by the director Jean-Louis Commolli, and has always combined film and television work throughout her career. In addition her career in filmmaking, Carla teaches at the Ramón Llull University, being part of their Filmmaking and Production Masters Course. Carla collaborated with filmmakers such as Joaquín Jordà before debuting with her first feature film "Nedar" in 2008. In 2011, she directed "Madalena", an episode of the feature film "Kanimambo", produced by Hispanocine and Eddie Saeta. In 2010 she started her own production company, "Pandora Cinema", which produced her second work "Volar".


(European Women's Audiovisual Network)




Nedar

The personal identity and the reconstruction of memories and the past are the theme of Carla Subirana's intimate film Nadar. In her first full-length film, the director reflects on the loss of family and collective memory. The filmmaker succeeds in giving her personal quest a moving universal meaning. Subirana grew up in a world of women. Her anti-Franco grandfather was executed in 1940 after the Spanish Civil War for committing three armed raids. When Subirana embarks on her quest for truth in this issue that has always been surrounded by silence, her grandmother already has Alzheimer's disease and her mother is suffering from the same ailment. In her film, Subirana compares the creative process that lasts foryears, with swimming underwater in danger of drowning.


(International Film Festival Rotterdam)


All welcome!