2015
2015
Memory and the Body in Contemporary Catalan Documentary Cinema 2nd Documentary Film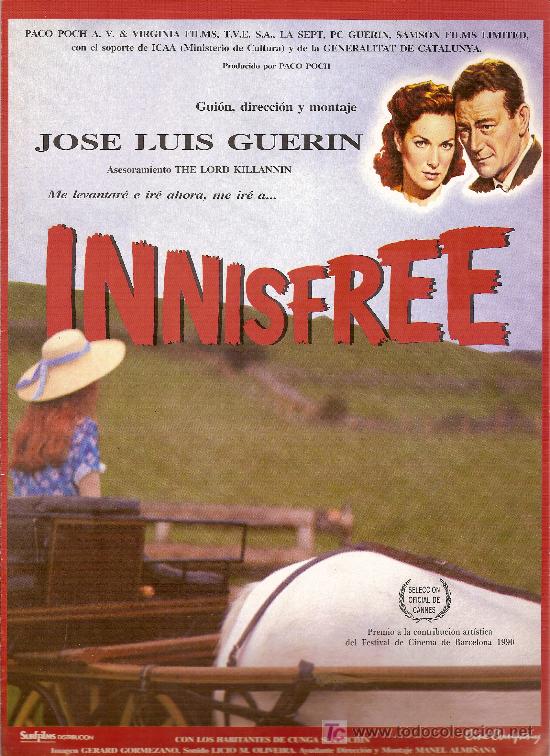 Monday January 26th – Kane Building B10A – 18:00 h
The Department of Spanish, Portuguese and Latin American Studies is delighted to present the second documentary film of the series:
Memory and the Body in Contemporary Catalan Documentary Cinema
Innissfree
José Luis Guerín (1990)
(Movie in English)


Innisfree
A documentary focused on the modern-day village of Innisfree, the location used by legendary director John Ford for his Irish romance The Quiet Man.
Innisfree (from the Gaelic Inis Fraoich, the heather island) is the name of a tiny island in Lough Gill, to the south ­east of Sligo town, which was immortalised by Yeats in one of his best ­ known poems, " The Lake lsle of Innisfree " (The Rose, 1893). Written at a time when the poet lived in London with his family, and "felt very homesick" (Kirby, 1977: 46), "The Lake Isle of Innisfree" expresses a nostalgic longing for a simple country life apart from the stresses of urban life that places it within a pastoral tradition.
…(J.L Guerin) realised that whenever he asked Spanish people about lreland they invariably resorted to The Quiet Man as their main referent, mentioning the country's beautiful Technicolor scenery and her people's fondness for drink and rnusic, but failing to perceive the repeated hints provided by Ford that give the lie to the emigrant's drearn of lreland.
Following a visit to the village of Cong, Co Mayo, the location Ford had chosen for his film thirty­ seven years earlier, Guerín would also realise the potent effect the shooting of The Quiet Man had had as "a late colonising wave which changed the economic, social and mental structures of the county".
(Worldscinema.org)
Jose Luis Guerín
As one of Europe's most influential and innovative non-fiction filmmakers, José Luis Guerín (1960–) occupies a unique place in the vibrant and still largely underappreciated history of Catalan cinema. A brilliantly original director and a professor at Barcelona's prestigious Universitat Pompeu Fabra, Guerín has brought a new dynamism and experimental spirit into Catalan and Spanish cinema. Together with his colleague, the radical documentarian Joaquim Jordà, Guerín has transformed the Documentary Program at Pomeu Fabra into one of Europe's most important centers for experimental non-fiction work and inspired a new generation of young filmmakers, such as Mercedes Alvarez (El Cielo Gira).

Guerín's films purposefully confound narrative and documentary traditions, discovering rich narrative threads woven into the tapestries of his real life subjects and unraveling mysteries without solutions that nevertheless leave the viewer deeply satisfied. Guerín's masterworks such as the radical Tren de sombras and his most recent triumph En la ciudad de Sylvia possess a meditative and deeply cerebral quality without being overly intellectual, manipulating narrative, sound and off-screen space with a sophisticated sense of playful experimentation reminiscent of both Chris Marker and Raul Ruiz. An omnivorous cinephile since his childhood during Franco's regime, when foreign films were extremely difficult to see, Guerín openly acknowledges the profound debt owed by his films to those masters who he so carefully studied during his "education" at Barcelona's Filmoteca – not only directors such as John Ford, Howard Hawks and the Lumière Brothers, who are quoted and referenced throughout Guerín's films, but also those who Guerín boldly sought out and befriended such as Bresson, Ruiz and Philippe Garrel. Like the films of Pedro Costa, Guerín's films capture tropes of cinematic classicism embedded in the real world, discovering and reinventing, for example, the Hawksian symmetry between friends on the streets of Barcelona in En construcción or refining the patient Lumière long take used throughout En la ciudad de Sylvia.

Obsessed with the essentially cinematic qualities of travel and motion, Guerín's films lead the viewer on a voyage of discovery to a "foreign" place, such as his evocative search for John Ford's Innisfree in his eponymous film. Together Guerín's peripetatic and wonderfully curious films create a singular mode of cinema that revels in visual and sensual beauty even as it boldly experiments with narrative structures and provocatively intermingles documentary and fiction, memory and desire. Little known in the United States, Guerín's visit to Harvard is a historic event and a rare opportunity to discover one of Europe's most important filmmakers.
(Harvard Film Archive)
All welcome.