News
News
Transforming Youth Detention: the Oberstown story? Making rights real in youth detention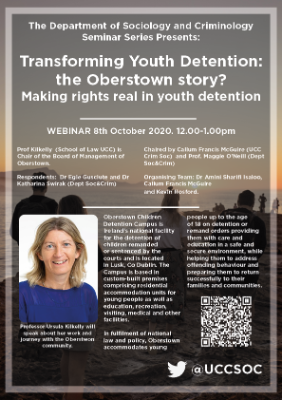 Following from our successful Seminar Series last College Year, we are delighted to be collaborating with UCC Criminology Society @UCCCrimSoc for the first in our WEBINAR Series on 8th October 2020. 12.00-1.00pm with Prof Ursula Kilkelly (School of Law UCC) who is Chair of the Board of Management of Oberstown.
Respondents: Dr Egle Gusciute and Dr Katharina Swirak (Department of Sociology & Criminology, UCC)
Chaired by Callum Francis McGuire (UCC Crim Soc) and Prof. Maggie O'Neill (Head of Department of Sociology & Criminology, UCC)
Organising Team: Dr Amin Sharifi Isaloo, Callum Francis McGuire and Kevin Hosford.
Oberstown Children Detention Campus is Ireland's national facility
for the detention of children remanded or sentenced by the courts and is located in Lusk, Co Dublin. The Campus is based in custom-built premises comprising residential accommodation units for young people as well as education, recreation, visiting, medical and other facilities. In fulfilment of national law and policy, Oberstown accommodates young people up to the age of 18 on detention or remand orders providing them with care and education in a safe and secure environment, while helping them to address offending behaviour and preparing them to return successfully to their families and communities.