News & Events
News & Events
Lectureship Opportunities in the School of Public Health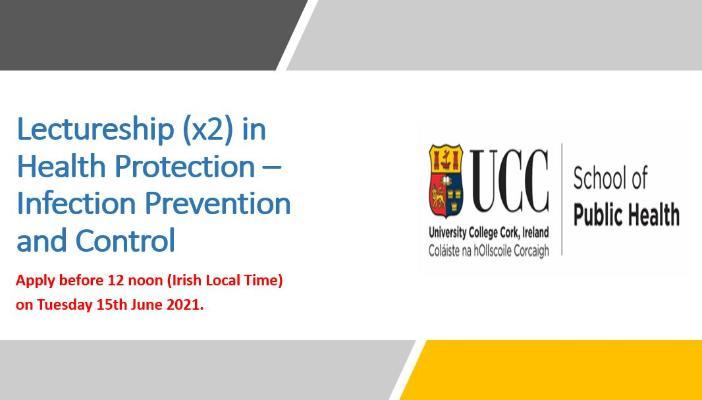 CLOSING DATE - Before 12 noon (Irish Local Time) Tuesday 15th June 2021.
Lectureship (x2) in Health Protection – Infection Prevention and Control, School of Public Health, College of Medicine & Health
Specific Purpose Whole-time Posts (anticipated duration of 3 years).
UCC wishes to appoint to the above Lectureships (2 posts). In accordance with the University's strategic objective as a research led institution, the duties of all academic staff will include research, research-led teaching and contributions to the university, the discipline and the community. The academic staff member shall teach and examine, undertake administrative duties and carry out other duties appropriate to the post under the general direction of the Head of the School of Public Health.
For an information package including full details of the post, selection criteria and application process please
click here.
Informal enquiries can be made in confidence to Dr. Maura Smiddy at
m.smiddy@ucc.ie
The University, at its discretion, may undertake to make an additional appointment(s) from this competition following the conclusion of the process.
Please note that Garda vetting and/or an international police clearance check may form part of the selection process.
UCC is committed to creating and fully embracing an inclusive environment where diversity is celebrated. As a University we strive to create a workplace that reflects the diversity of our student population where people from a wide variety of backgrounds learn from one another, share ideas, and work collaboratively. UCC is committed to being an employer that recognises the value of diversity amongst its staff. We encourage applicants to consult our policies at
https://www.ucc.ie/en/edi/policies/
and initiatives at
https://www.ucc.ie/en/edi/implementation/
and we welcome applications from everyone, including those who are underrepresented in the protected characteristics set out in our Equal Opportunities & Diversity Policy.
Appointment may be made on the Lectureship Salary Scale: €34,748 - €61,370 (Scale B) / €36,658 - €58,397 (Scale A)
Salary placement on appointment will be in accordance with public sector pay policy.
Applications must be submitted online via the University College Cork vacancy portal (
https://ore.ucc.ie/
). Queries relating to the online application process should be referred to
recruitment@ucc.ie
, quoting the job-title.
Candidates should apply, in confidence, before 12 noon (Irish Local Time) on Tuesday, 15th June 2021.
No late applications will be accepted.
UNIVERSITY COLLEGE CORK IS AN EQUAL OPPORTUNITIES EMPLOYER.

Please note that an appointment to posts advertised will be dependent on University approval, together with the terms of the employment control framework for the higher education sector.
Contact Person
Dr. Maura Smiddy
Contact Email
m.smiddy@ucc.ie
Job ID :
046011
Close Date :
15-Jun-2021 12:00