News
News
Penny Dinners Annual Christmas Drive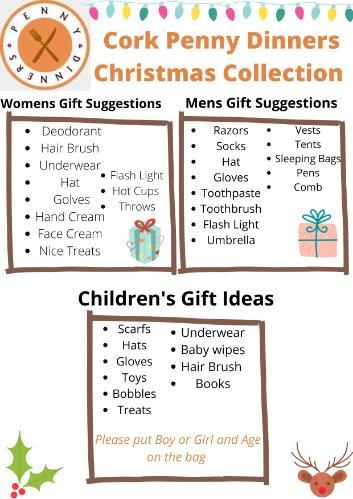 Penny Dinners are holding their Annual Christmas Drive. We have a box located near the reception area of Western Gateway Building for donations which will be collected weekly.
Penny Dinners are holding their Annual Christmas Drive. This is an important part of their year as it will supply many people over the winter months. Penny dinners have acted as a valuable lifeline to so many people in Cork. First founded during the famine as a soup kitchen, they now offer hot meals and supplies for many people in Cork. Demand for their service has soared since the beginning of the Covid pandemic and they need your support more than ever.
We hope to have a great response to this campaign from all in UCC,
Penny Dinners have put together some gift suggestions based on the needs of people,
Men's Gifts
Razors
Combs
Socks
Hats Gloves
Toothpaste & Toothbrush
Vests
Tents
Sleeping Bags
Pens
Flashlight
Umbrella
Nice Treats
Women's Gift Ideas
Deodorant
Hairbrush
Underwear
Hat
Gloves
Hand Cream
Face Cream
Nice Treats
Flashlight
Hot Cups
Throws & Blankets
Children's Gift Ideas – Please put Boy or Girl and Age on the bag.
Scarfs
Hats
Bobbles
Toys
Gloves
Underwear
Baby Wipes
Books
Hairbrush
Nice Treats