News
News
New SFI grant!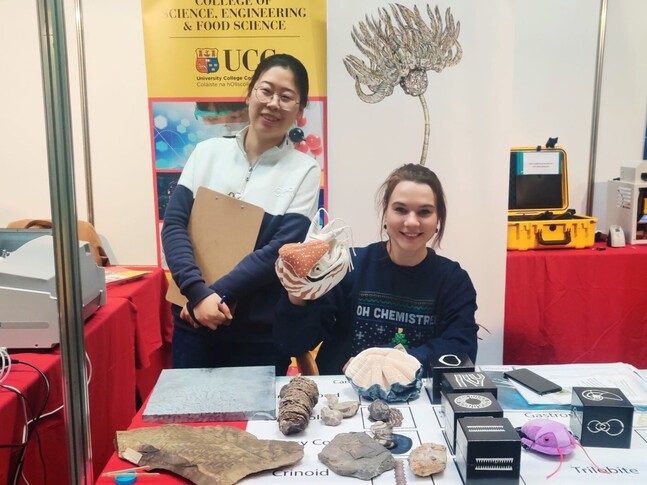 Maria was awarded almost €300K in funding from SFI as part of their Discover scheme to fund public engagement initiatives.
Her funded project, "Ireland's Secret Past: unlocking our Fossil Heritage" will expand the work from the pilot project of the same name which ran from Jan – Dec 2019.
This project will build on an extremely successful SFI-funded pilot project to exploit palaeontology, a critical gateway science, to enhance understanding and perceptions of STEM in Ireland. The project will reach out to thousands of Irish children and adults via hands-on, digital and interpersonal formats that encourage hypothesis-testing and active kinaesthetic learning. Bespoke resources tailored to Irish fossils will complement a novel national network of urban fossil trails. A
ground-breaking interactive exhibit hosted at national and regional science fairs will showcase Irish fossils and incorporate cutting-edge technology previously inaccessible to the public. Workshops will be delivered to schoolchildren around the country via videolink and/or in person. Collaborations with artists will encourage the public to engage with fossils in new ways through workshops, creation of an exhibition and e-book and art competitions. Other national events include public lectures, a touring photography exhibition and a vote for Ireland's favourite fossil, promoting palaeontology, and STEM more broadly, as topics of national importance. The project will reach out to women and girls, and residents of disadvantaged communities, direct provision centres, offshore islands, and counties with little STEM intervention. Impact will be measured using qualitative and quantitative means, integrated into key activities at predetermined stages of the project, including statistics on website- and social media interaction, interviews, workshops, surveys, poster exercises and quizzes. By raising the profile of palaeontology, this project will inspire curiosity in our ancient past at a national scale, ultimately reforming national science curricula and stimulating pursuit of STEM careers.
As of 2021 we are expanding the programme to the whole country and with exciting new activities! We are looking for project partners so please get in touch by contacting Maria (maria.mcnamara@ucc.ie) or Naomi (naomi.oreilly@ucc.ie). For more information click here or check the project's dedicated website here.