It takes two
Liam Grainger talks to UCC student and Olympic bronze medalist rower Emily Hegarty and her UCC mentor Dr Dervla O'Malley about the importance of academic guidance along the path to sporting success.
Emily Hegarty is a busy woman. Less than two weeks after securing Ireland's first ever medal in women's rowing at the Olympics, the Skibbereen native was back on the water representing UCC in the local Cork championships, where she took podium finishes in the women's double, fours and eights. Between Late Late Show appearances, coaching duties with UCC Rowing, and her Physiology studies on top of it all, the idea of a day off is a foreign concept to this sporting prodigy.
This intricate balancing act of academic and sporting commitments can be quite the challenge for many students, but it's something that Emily has mastered, according to her academic mentor Dr Dervla O'Malley. Emily's title of Quercus Sports Scholar* provides her with academic support and advice via Dr O'Malley, a role which the Physiology lecturer found quite easy considering the "driven and resilient nature" of the third-year Physiology student. Dr O'Malley testifies to the Olympian's grounded nature and speaks of the pride she brought to the Physiology department when she entered the annals of Irish sporting history on August 16, 2021.
Emily took the scenic route to Physiology, having started out as a General Science student before splitting her second-year studies in two and deferring her third year in order to focus on her Olympic ambitions. Dr O'Malley proved a constant pillar of support for Emily throughout this journey, providing the direction that would eventually lead her into the Physiology department this September. The pair first connected in 2019 and maintained contact throughout 2020 despite Emily's academic hiatus.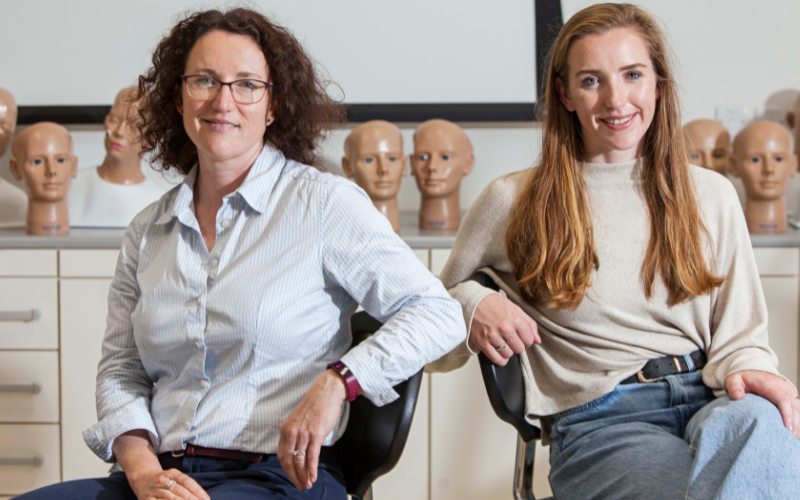 Speaking to Independent Thinking, Dr O'Malley describes the mentorship scheme as "simply an informative and supportive outlet for the student", but it's evident that the relationship grows to more than that, as she recalls with immense pride the moment Emily took bronze and describes her as an "integral member of the Physiology family". The Physiology lecturer labels it as "phenomenal" that Emily managed to reach world standard in rowing while maintaining academic progress and speaks of her "laser focus which acts as inspiration to both students and faculty in the department".
Dr O'Malley is no stranger to high-performance athletes, having lectured Quercus Sports Scholar Orla Cronin and acted as the supervisor for Fintan McCarthy's third-year Physiology project, which focused on nutritional supplements in rowing; she says the Physiology course is "very appealing to accomplished sports people as it offers them an opportunity to see how the body works and is all about mechanics".
Emily tells me how her rowing story began at the age of 11, when she first took to the water, and in the pursuing years she began to make a name for herself in Irish rowing circles with victories at the Junior Worlds and U23 Championships.
"My sixth-place finish at the World Championships at the end of first year with Aifric Keogh was a real eye-opener, and showed me that the Olympic dream could be a lot closer than I thought," Emily says, explaining that she began to put greater focus on her training to make the Olympic dream a reality.
She recounts how Dr O'Malley was "incredibly re-assuring throughout the build-up to the Olympics", and how she fully supported her decision to take last year off and grab this "once in a lifetime Olympic opportunity". As she returned to the books this September, Dr O'Malley then helped Emily navigate the re-registration process and linked her up with relevant contacts to overcome any teething issues upon the return to life at UCC.
"My sixth-place finish at the World Championships at the end of first year with Aifric Keogh was a real eye-opener, and showed me that the Olympic dream could be a lot closer than I thought" - Emily Hegarty
For Emily, the Quercus Sports Scholarship has been particularly beneficial during the highly competitive Olympic selection process in which she must compete as a part-time student against 11 other full-time Irish athletes. She explains that by rescheduling laboratory sessions and lectures – made possible thanks to the support of the department – the scholarship has enabled her to "meet the expectations of a high-performance athlete, while still staying on track academically".
When news broke of the Olympics' postponement in March of last year, Emily recalls: "It was somewhat expected; and instead of thinking of what could have been, the squad immediately pivoted their schedule towards an additional year of training."
For those of Team Ireland's athletes who were competing in their second or third Olympics, she explains that the Tokyo experience lacked the excitement that was present at London or Rio, with any travel opportunities in Japan prohibited and a 48-hour window to leave the country once your competitive action had ended. But for first-time Olympian Emily, it was "everything she had expected and more".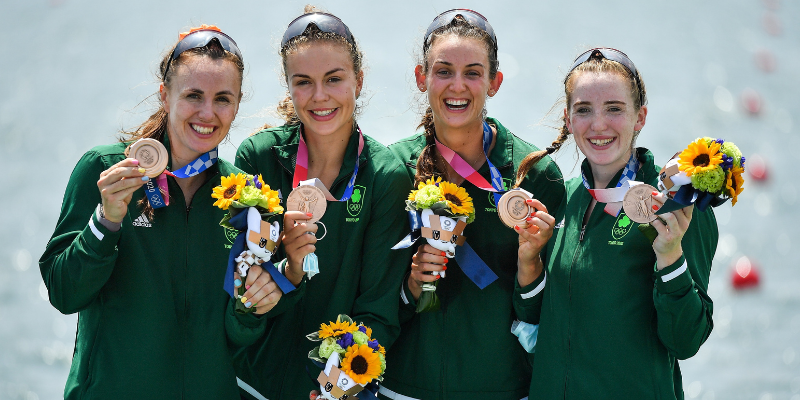 Emily's ambitions for Paris 2024 are no secret, and she speaks candidly of her "absolute goal to be there in three years' time, do it all over again and, hopefully, go one step further". With the World Championships in 2023 being the first opportunity to secure qualification for the games, she admits that she is "under no illusions of the sheer competition to get a seat on the plane to Paris", with the Tokyo success carrying no weight in the upcoming selection process.
The qualification journey is a long one, with the squad needing to qualify both the team and boat during qualification races that take place usually over the winter months, before the squad is cut in spring, with the first set of trials for Paris beginning in just under two months' time. For now, though, it's all about reconnecting with friends and getting back into the swing of college life for Emily. In modern parlance, she is "one to watch"; and given her incredible drive, intelligence and a fantastic personality, prepare to hear a lot more from this rising star in the coming years, both on and off the water.
*The Quercus Talented Students' Programme is supported by Ford.
Visit the dedicated UCC College of Medicine and Health website for further information.
Photography: Diane Cusack