Adapting to the current
Alana Daly Mulligan sat down with UCC Quercus Scholar and two-time Olympian Paul O'Donovan and his academic mentor Professor Mary Horgan to discuss how the pairing has worked together over the last few years to build a brilliant Olympian.
Paul O'Donovan is not your typical sportsperson, no less your typical Irish sportsperson. Perhaps some sort of mythic reincarnation, O'Donovan is a river man – with his sense of quiet permanence and reliability, something he brought to the world stage when he and his teammate Fintan McCarthy pulled (like dogs, some might be inclined to say) across the finish line at the Tokyo Olympics in July 2021.
As the bends of the river Ilen break in upcoming rowing champions, a little further down the course of the River Lee, Professor Mary Horgan – who, among her many pursuits is Director of the Graduate Entry Medicine Programme, former Dean of the School of Medicine, a consultant in Infectious Diseases, and the first female president of the Royal College of Physicians of Ireland (RCPI) – is the academic mentor to Ireland's most famous rower.
It was a meeting between the multi-award-winning Olympian and the trailblazing professor in 2017 that convinced O'Donovan to come to UCC to study Graduate Entry Medicine through the Quercus Talented Students' Programme*. I ask Paul how Professor Horgan has pushed him to strive for academic gold as much as Olympic medals, at which point Professor Horgan quips, "You can say what you like, Paul!"
The Skibbereen-man's now-famous humour comes out – "She's been nothing but a nuisance and an obstacle for me to work around!" There's a general chuckle before he suddenly gets serious: "Professor Horgan's can-do attitude about any problem or concern has given me confidence that I can take on a lot in life and do well in all aspects of it."
Paul reflects on meeting up with Professor Horgan humbly, his primary concern being his ability to keep up with the demands of training to be a doctor while simultaneously pursing his athletic career: "I think that's often what you need sometimes, is someone to give you a push and say 'look, go and do it, you'll be fine'. Otherwise, you'll just be sitting around doing nothing, wondering 'will I, won't I?' You fail if you don't try, and more often than not if you do try, you will have some kind of somewhat positive outcome."
"Our university is about learning not only academically, but learning for life – we need to be flexible and nurture people" - Professor Mary Horgan
The duo had always known that taking a leave of absence to train for the Olympics was on the cards, but the emergence of COVID-19 in March 2020 changed the game plan. "I'm continually inspired by Professor Horgan in what she does for me," Paul says. "She's the President of the Royal College of Physicians and an infectious diseases expert, and we're in the middle of the biggest pandemic the world has ever seen, and here she is helping me out! That just gives me the motivation that I don't want to let her down either; confidence that I can do as much work as she's doing."
At this point, Professor Horgan jumps into the conversation: "It's always important for somebody at my stage of my career that … I was like Paul – leave the sports aside – we've all been students, we know what it's like. I think when you forget that, it's a bad day. You need to put yourself in the place of the student." The RCPI President sees one of her leadership responsibilities as being a role model, prioritising flexibility and having an empathetic approach must follow close behind: "Our university is about learning not only academically, but learning for life – we need to be flexible and nurture people." It was this holistic approach to education that enabled Professor Horgan to help O'Donovan get the essential clinical attachments he needed as the stop-start of the Olympics mid-pandemic rolled out in real-time: "I think we should be flexible with our elite athletes because of the commitments they make in getting to where they are."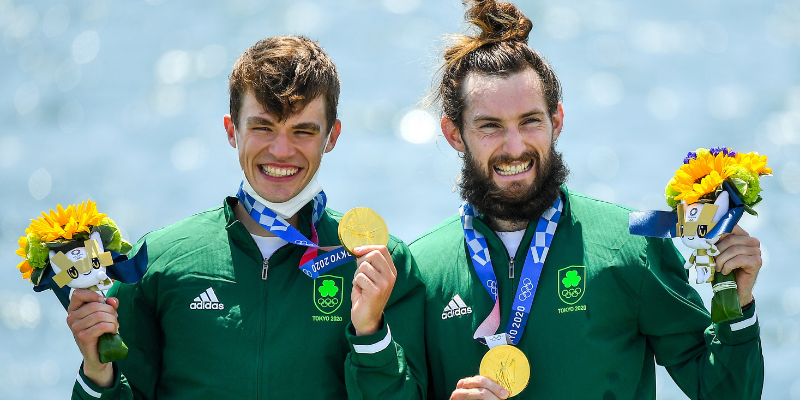 Professor Horgan's philosophy on building good doctors revolves around bringing out the best in students, encouraging the exemplary, the extracurricular and the well-rounded. Professor Horgan explains: "I think the more life skills you have, in interacting with people, in being motivated and having insights into the issues we all have every day, that it helps you be a better doctor. One of the big advantages of graduate entry medical students is that they have more life skills because they have done more. The benefit of sports – whether it's any programme within the university – is teamwork … it's really good organisation skills, also about prioritising. So, I think it's athletes' ability to be organised to prioritise different things at different times that allows them to be more rounded graduates, and that's across all of the areas, and I think certainly health and medicine can do with a lot more of that."
Paul, by proxy of being an internationally decorated athlete, is an excellent example of this well-rounded student. He explains: "With my experience of rowing, because we try to travel as much as possible, we get to meet lots of people with different personalities and different cultures who are coming from different kinds of training systems." He explains that, in line with Professor Horgan's belief in empathy, greater exposure to different types of people builds understanding and character in a doctor.
The moral of the conversation with these two world leaders is that adapting to the current is key, whether working in a hectic hospital setting or tackling a raucous river. There is the understanding that the course is not always smooth, but that comfort is stagnant – they both do what they love because change is good; it reminds us of what it means to be alive and how we can help others to live to their potential too.
*The Quercus Talented Students' Programme is supported by Ford.
Visit the dedicated UCC College of Medicine and Health website for further information.
Photography: Diane Cusack