News and Events
News and Events
Law Firm Arthur Cox to Scout for Next Generation of Legal Professionals at UCC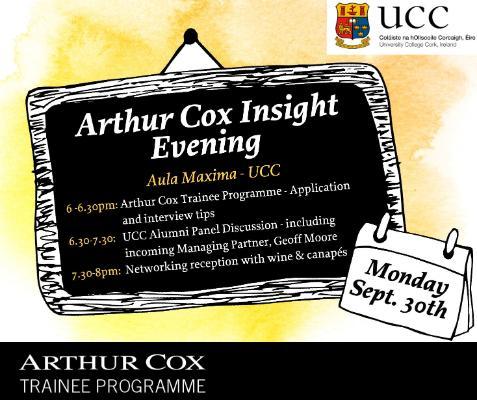 UCC students will get an opportunity to meet with Arthur Cox partners and find out more about the law firm's exciting programmes for graduates at an exclusive on-campus recruitment event on Monday 30 September.
UCC alum Geoff Moore, recently appointed as the next Managing Partner of Arthur Cox, will be on hand to answer students' questions at the interactive event from 6pm in the Aula Maxima, UCC.
'We are delighted to be hosting another Arthur Cox Insight Evening in the stunning setting of the Aula Maxima,' says Eimear Power, Graduate Recruitment Manager at Arthur Cox. 'Geoff will be joined at the event by a number of UCC alumni from all levels of the firm, from trainee right up to partner. Students will hear about the Arthur Cox Trainee Programme, get tips on how to apply, and have the opportunity ask questions of the alumni panel and hear about their career paths from UCC to Arthur Cox. This will be followed by a wine and canapé networking reception. The event is open to Law and non-Law students alike from all years.'
This event builds on the relationship between UCC and Arthur Cox established in April of this year with the announcement of a philanthropic gift to support Law student scholarships through the UCC PLUS+ programme.
Arthur Cox is a leading Irish commercial law firm with offices in Dublin, Belfast, London, New York and Silicon Valley. The firm provides a comprehensive service to an international client base, ranging from multinational organisations, banks and financial institutions, to government agencies and new players in emerging industry sectors.
The Arthur Cox Trainee Programme offers graduates a comprehensive experience of working in a leading commercial law firm. Trainees complete a rotation in each of the four main practice areas – corporate, finance, litigation and property – as well as being encouraged to choose a niche area that they are interested in.
Trainees will also get a chance to develop their skills in legal research, writing and drafting, negotiation, project management and communication – all core skills for a successful law career. Most trainees share an office with a partner, allowing trainees to build meaningful professional connections and to learn from the experts.
The firm is keen to meet with students from Law and other programmes who may be interested in a legal career. The deadline for applications to the Dublin Trainee Programme is Thursday 31 October 2019.
Arthur Cox Insight Evening: Monday 30 September at 6pm in the Aula Max, UCC. Refreshments will be provided.