News and Events
News and Events
Fully-Funded PhD and LLM (by Research) Scholarships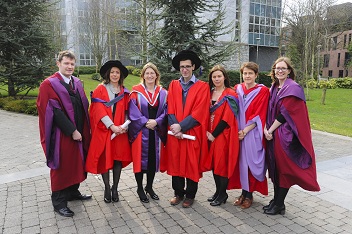 The School of Law at University College Cork invites applications for fully-funded PhD scholarships (EU fees plus €16,000 stipend, tenable for up to four years) or LLM (by Research) scholarships (EU fees plus €16,000 stipend, tenable for one year).
Candidates commencing their studies in January 2019 or later are eligible to be considered for the award of these scholarships. As well as applying through the Postgraduate Applicants Centre portal (www.pac.ie), applicants wishing to be considered for a scholarship must also send their application directly to Leah Neville at l.neville@ucc.ie on or before Friday 5th October 2018.
The scholarships are aimed at outstanding candidates who exceed the criteria for admission to the PhD or LLM (by research) programme. In particular
- Candidates should have a first class honours undergraduate degree (or equivalent), or a high 2.1 honours degree (or equivalent) supplemented by outstanding subsequent academic or professional accomplishments.
- PhD candidates should have either a Master's degree or extensive and relevant professional experience.
- A track record of teaching, publication or other research-related activities is desirable.

Application Requirements
An application has five components:
1. Applicants must complete a detailed and original research proposal, using the Law School research degree application form. The proposal must contain the following:
(a) Description of project, including aims and central research questions (500 words)
(b) Methodology, including theoretical framework and investigative and analytical methods (500 words)
(c) Relationship to existing literature and proposed contribution to knowledge in the field of study (500 words)
(d) Outline research plan, including organisation and timeline of proposed work (500 words)
(e) Statement of suitability of UCC School of Law to host your proposed research project (250 words)
(f) Bibliography
(g) A personal statement detailing why you wish to undertake this particular research project (500 words)

2. All applications must have secured the support of a potential supervisor or supervisors in the Law School. Applicants will be required to confirm in the application form that they have been in contact with the prospective supervisor(s).

3. All applicants must submit a two-page CV.

4. All applications must also be accompanied by two references (either two academic references or one academic and one employment-related reference). Applicants should submit these references with their application form or, alternatively, referees can send the references directly to Leah Neville (l.neville@ucc.ie) in advance of the closing date for receipt of applications.

5. All applications for admission to the PhD and LLM (by Research) programmes must be submitted to the Postgraduate Applicants Centre portal. Applicants who wish to be considered for a scholarship must also send their application directly to Leah Neville (l.neville@ucc.ie) on or before Friday 5th October 2018.
UCC School of Law Research Scholarship Application Form

The School of Law reserves the right to decline to offer scholarships to candidates who meet the criteria for admission to the PhD programme but do not, in the judgement of the Graduate Studies Committee, meet the scholarship award criteria set out above.

These scholarships are available to full-time research students only. Scholarship holders will be expected to reside in Cork and will be required to teach as part of their scholarship terms. All candidates intending to pursue a PhD degree will be required to register on a PhD track in the first instance. For queries, please contact the School of Law, Leah Neville at l.neville@ucc.ie
About the Programme
UCC School of Law boasts Ireland's most successful graduate research programme in Law. Students are provided with an unparalleled experience within a well-established and vibrant community of doctoral scholars, with easy access to experienced supervisors who are internationally recognised experts in their fields and a suite of tailored supports, facilities and activities. The quality of the programme is evidenced by:

 Success rates in external funding competitions: PhD students in the School of Law have secured over €2.5 million in external research funding since 2004.

 Publication outputs by students in the programme: postgraduate researchers in the School have generated multiple research monographs and appeared in such journals as the Modern Law Review, Public Law, Social and Legal Studies, the International Journal of Human Rights, the International and Comparative Law Quarterly and the European Intellectual Property Review.

 Employment outcomes for graduates: graduates from the research programme have an exceptional record in quickly transitioning to high-quality employment in academia, research and advocacy, and the legal profession, with over 40 of our graduates employed on the academic staff of over 20 Law Schools in five countries.

About the School of Law
The School is in the top 150 Law Schools in the world (QS 2017). The School has national and international experts across the legal discipline and delivers the highest quality research with regularly published output in leading national and international academic journals, monographs and texts.

Much of the School's research is focused around its research centres and collaborative research networks and groups.

 In 2018 the Centre for Children's Rights and Family Law was established. Led by Prof Ursula Kilkelly this centre is Ireland's leading research centre in the area of children's rights and family law with a strong international impact and takes an active role in shaping policy at a national and international level.

 The Centre for Human Rights and Criminal Justice is long standing and well established in the fields of criminal law, criminal justice and human rights. It undertakes excellent cutting-edge research and engages with strategic partnerships with government, statutory bodies and civil society organisations.

 The interdisciplinary Centre for Law and the Environment is aligned with the Environmental Research Institute, UCC's flagship institute which addresses complex environmental and sustainability challenges.

 The interdisciplinary Centre for Research in Sports Economics and Law was also established in 2018 and has extensive expertise in the area of sports law.

 The European and Business Law Network brings together scholars who have shared interests in EU and Business law. The network provides a platform for legal and interdisciplinary research in these areas, now especially important in light of Brexit. Important aspects of the network's activities include interacting with international partners, providing a platform for major funding bids as well as engaging with national and international policy-makers.

 Members of the Information, Data and Privacy group specialise in aspects of information law, data protection law and privacy law and theory.

Other areas of expertise include Constitutional and Administrative Law, Constitutional Theory, International Law, Language and the Law, Medical and Mental Health Law, Private Law, Private Law Theory and Subsidiarity.
For more on this story contact: