EMBRACE
EMBRACE
Exploring Mobility: Borders Refugees & Challenging Exclusion
Border externalisation in the form of land and sea surveillance, the erection of walls, offshore detention, accelerated deportations and increasing hostility towards people seeking protection, have become deeply entrenched in a politics of border enforcement both in the EU and on a global scale. The EMBRACE project places a focus on these frontiers of border militarisation, with a specific focus on the EU Mediterranean border and the US/Mexican border. The project will involve a research visit to Mexico in 2021 to conduct research on the Mexican/US border.
Project Aims
The project involves a collaboration between migration researchers in University College Cork (UCC), and the University of Veracruz (UV), Mexico. The project aims to explore border securitisation from a comparative perspective using the EU Mediterranean border and the US/Mexican border as case studies. A critical component of the research relates to the impact of border securitisation and militarisation practices on the lives of refugees, asylum seekers, and returned migrants. As part of the project, the research will also explore how local responses can assist refugees, asylum seekers and returned migrants in the integration process and broaden their inclusion and participation in local communities. The main research aims and objectives are to:
enhance and share knowledge on border securitisation practices and their impacts on refugees, asylum seekers and returned migrants
explore and exchange knowledge on best practices in the reception and integration of refugees at local level
More broadly, the project aims to develop the potential for future collaboration that speaks to Horizon Europe calls on migration and future research initiatives between both universities. As such the research visit aims to:
build connections and establish embedded links and consolidate a platform for engaged research between UV and the ISS21 Migration and Integration Research Cluster.
create an international dialogue space for exploring issues relating to border securitisation, mobility, and transnational migration.
The expected outputs include: consolidation of the research network; a collaborative research paper exploring border securitisation and refugee integration; and a research seminar in UCC to disseminate the research, with migration experts from Ireland and UV.
Project Funding and Dates:
Funded by the Irish Research Council New Foundations Programme, this project runs from September 2020 - July 2022.
Contact:
Dr Claire Dorrity (PI) School of Applied Social Studies, c.dorrity@ucc.ie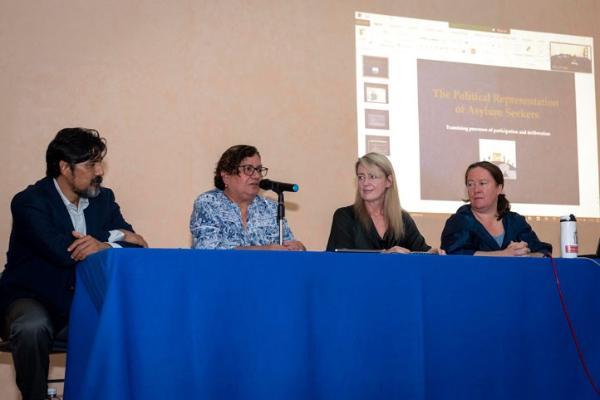 Dr. Carlos Garrido, Dr. Filiberta Gómez Cruz (UV), Dr. Claire Dorrity & Cliona Maher (UCC) at the Experiences of Ireland, Mexico and Columbia: Migrants Refugees and Political Asylum Seminar, Institute for Historical and Social Research UV, Mexico (November 2019)