News
News
Sunny Numbers Wins IGNITE Best Business Award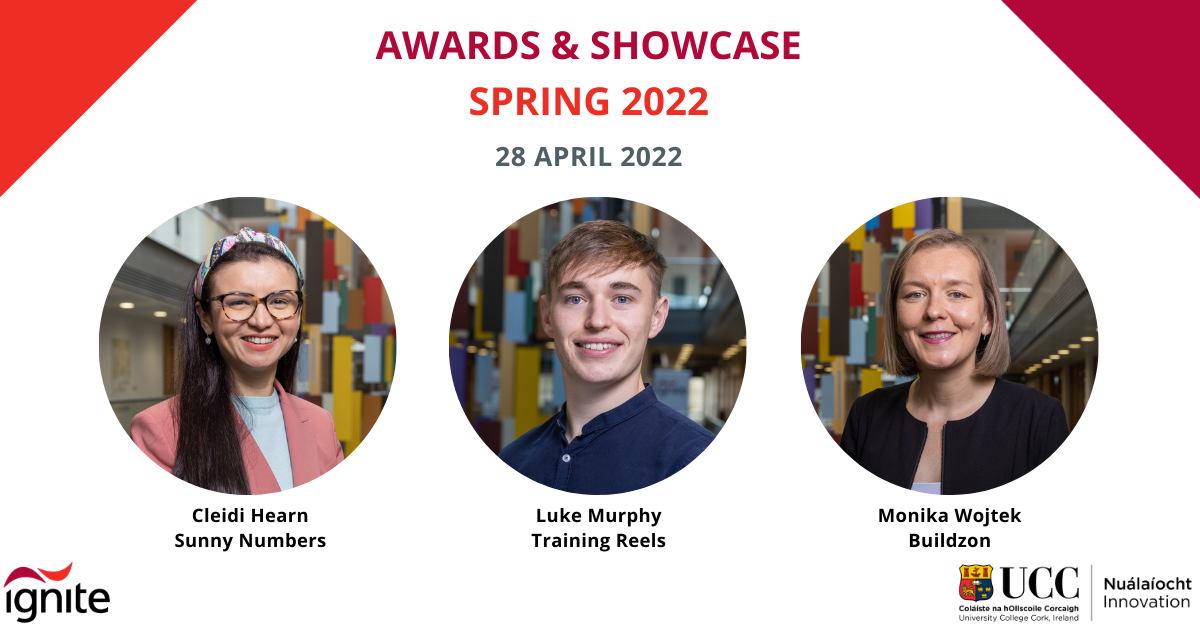 Sunny Numbers, an e-learning platform powered by peer support that helps you to build data skills, has been named Bank of Ireland/IGNITE Best Business.
The Hub at University College Cork hosted the IGNITE Awards & Showcase for Spring 2022 on Thursday 28 April with Jonathan Healy as MC.
During the event, three finalists who are completing the programme pitched their businesses live and the start-up founders who are currently on the programme presented their business and were able to network and connect with academics, investors and students. The newest cohort, that has just started the programme, was also introduced to the audience.
The keynote speaker on the night was UCC Deputy President and Registrar, Prof. Stephen Byrne.
Pat Healy of Bank of Ireland announced the Award winners:
Bank of Ireland/IGNITE Best Business Award - Cleidi Hearn, founder of Sunny Numbers.
IGNITE Best Business Plan Award, presented by Cllr. Fergal Dennehy - Luke Murphy, founder of Training Reels.
IGNITE Best Business Pitch Award, presented by Cllr. Deirdre O'Brien - Monika Wojtek, founder of Buildzon.
The IGNITE Graduate Business Innovation Programme is delivered by University College Cork in partnership with Bank of Ireland, the Local Enterprise Offices of Cork City, South Cork and North and West Cork, Cork City Council and Cork County Council.
If you are interested in finding out more about the IGNITE start-ups featured at the event, click here.
If you are interested in finding out how IGNITE can help you start your business, click here.
Since 2011, IGNITE has been supporting entrepreneurs through the early stages of their start-up journey and the programme focuses on innovative business models to ensure competitiveness and scalability; validating the business model to ensure the business idea is robust enough to succeed; and developing soft personal skills needed to network, pitch, sell and survive in today's competitive marketplace.