News
News
IGNITE Welcomes The U.S. Ambassador to Ireland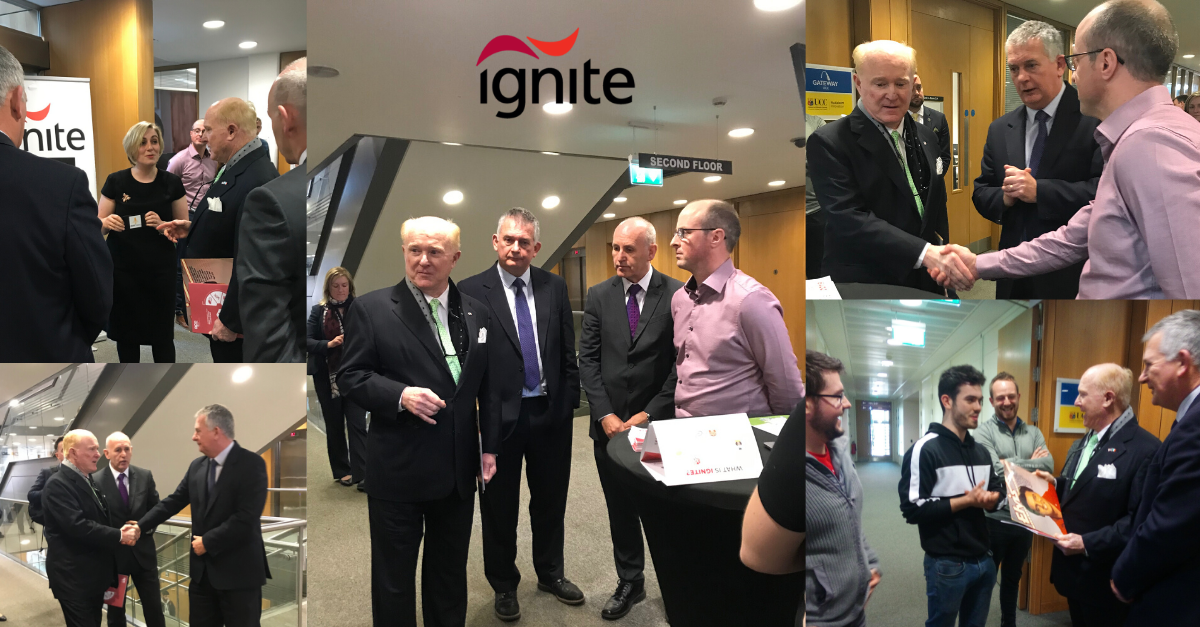 IGNITE had the fantastic opportunity to meet the U.S. Ambassador to Ireland, Edward F. Crawford during his visit to University College Cork.
Mr Crawford began his term as the U.S. Ambassador to Ireland when he presented his credentials to Michael D. Higgins, President of Ireland on July 1, 2019. While Mr Crawford grew up in Cleveland, Ohio, he has Cork roots, his mother, Kate Crawford (née Healy), originally came from Botherbue.
During his visit to University College Cork, the Director of UCC Innovation, Dr Rich Ferrie welcomed the ambassador to the Western Gateway Building where he met with a number of IGNITE entrepreneurs, GatewayUCC companies and SPRINT participants.
IGNITE entrepreneur, James Northridge, founder of UrAbility spoke to the ambassador about his business, UrAbility which aims to use assistive technology to bring learning to life for children with additional educational needs, including Dyslexia and Dyspraxia.
IGNITE Alumni, Dr Fiona Edwards Murphy, co-founder and CEO of ApisProtect spoke to the ambassador about monitoring over twenty million honey bees worldwide using their unique, innovative technology which helps beekeepers prevent losses and increase productivity in their hives.
The ambassador shared some key words of wisdom to the IGNITE cohorts about his entrepreneurial journey and starting a business at the age of 19. He shared "the key to success in business is handling rejection. Having the ability to turn the feeling of self-doubt from rejection into energy, pride and into success is something every entrepreneur needs to learn early on."