News
News
Launch of the UCC Proud Ally Student Network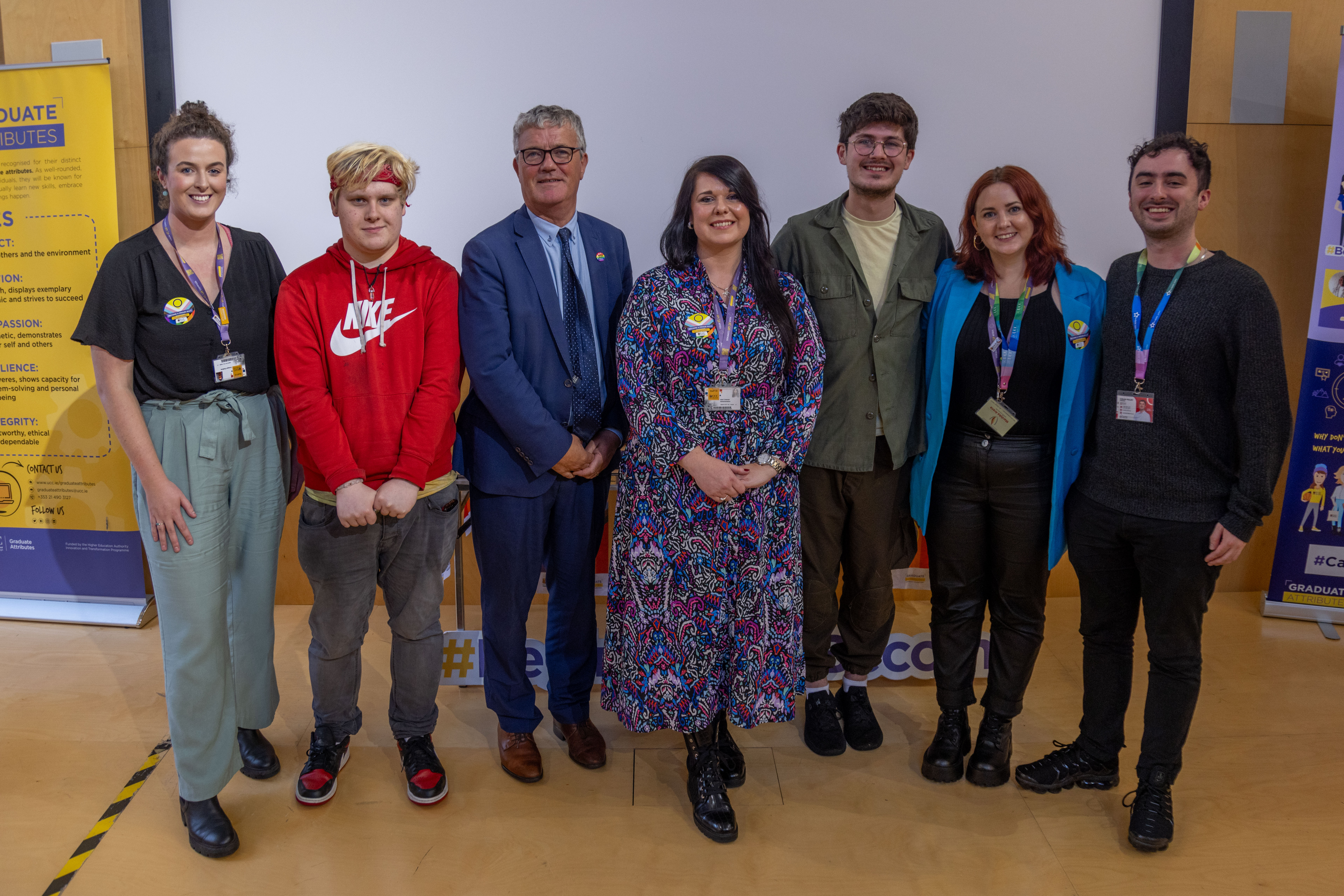 UCC is the first university in Ireland to launch a student allyship network.
Launched on International Day of Pronouns, the Proud Ally Student Network aims to educate and empower everyone to become effective and proud allies to the LGBTQ+ community.
Led by UCC's Graduate Attributes Programme, the network aims to support LGBTQ+ allies who actively support the Lesbian, Gay, Bisexual, Transgender and Queer community and work to end discrimination and promote equality through acting as advocates for LGBTQ+ individuals.
UCC President Professor John O'Halloran said: "Everyone deserves to be treated with respect, compassion, and integrity. It is our responsibility be effective global citizens who recognise and challenge inequality and are socially responsible."
"To be a Proud Ally you need to educate yourself on the challenges LGBTQ+ individuals face, and spend some time reflecting on who you are, what matters to you, and how you respond to different situations in your life. You need to understand, acknowledge, and challenge your own prejudices. Through this network, we aim to help make our campus an even more inclusive, warm, and welcoming place," Professor O'Halloran said.
Adel Coleman, Graduate Attributes Programme Manager, said: "A recent report by BeLonG To highlights that 76% of LGBTQ+ secondary school students don't feel safe at school. These are the students who arrive each year at UCC, and who deserve to feel safe and valued in university. It is our responsibility as Proud Allies to create a welcoming and inclusive environment in UCC." (Source: Belong To)
"The fight for equality did not end with the marriage referendum, it is continuing. And the reality that society can pull back on the work done to date is a very real threat. That is why we need initiatives like this in our Higher Education Institutions- to highlight that it is everyone's responsibility to be a Proud Ally."
Brian O'Kane, Chairperson of the LGBTQ+ student society, UCCSU Equality Working Group LGBTQ+ representative 22/23, and LLM International Human Rights Law and Public Policy student, said: "In my 4 years of being Queer at UCC, I can say from the bottom of my heart I've never known truer allies than Adel, Clodagh and Maggie from the Graduate Attributes Programme. Thank you for speaking in spaces where we cannot be heard. It has meant the world to us".
The network will host events and training opportunities, in addition to online resources which explore key information on becoming a Proud Ally to the LGBTQ+ community, including information on why it's necessary to be a LGBTQ+ Ally, the importance of pronouns, and the history of LGBTQ+ in Ireland.
Visit ucc.ie/proudally to learn more and become a Proud Ally.