News
News
UCC Online Jean Monnet Lecture Series 'The Dangers of Complacency in an Unstable European (and Global) Order: Lessons from Europe's Periphery' by Emma-Little Pengelly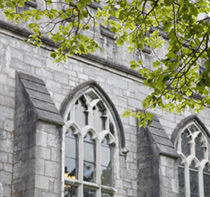 Department of Government and Politics

UCC Jean Monnet Lecture Series

IN-PERSON and LIVESTREAMING

The Dangers of Complacency in an Unstable European (and Global) Order: Lessons from Europe's Periphery

Emma-Little Pengelly

3-4pm Tuesday 15 March 2022

North Wing Council Room

Main Quad, University College Cork

Register

https://conference.ucc.ie/jean-monnet-lecture-series-march-15-2022/jm-march/Site/Register
Emma Little-Pengelly is a barrister and former DUP politician in Northern Ireland. She was the Member of Parliament (MP) for the Belfast South constituency in the House of Commons from 2017-2019, and served as a member of the International Trade Committee. She was previously an MLA for the Belfast South constituency in the Northern Ireland Assembly from 2015-2017 and served as a Junior Minister in the Government. She also served as Special Adviser to former DUP leaders, Rev Dr Ian Paisley, Peter Robinson and Arlene Foster.

The Current State of North South Relations

The Dangers of Complacency in an Unstable European and Global Order: Lessons from Europe's Periphery

The UCC Jean Monnet Lecture series is supported by the Erasmus+ Jean Monnet programme.
For more on this story contact:
Dr Mary C. Murphy
Senior Lecturer, Department of Government & Politics, University College Cork
Jean Monnet Chair in European Integration
President, Irish Association for Contemporary European Studies www.iaces.ie