News
News
UCC Online Jean Monnet Lecture Series 'Brexit, the Protocol, the Belfast Agreement: The winners, the losers and the casualties' by Doug Beattie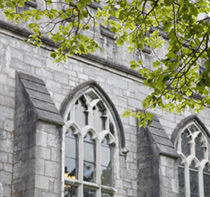 Department of Government and Politics

UCC Jean Monnet Lecture Series

ALL WELCOME

IN-PERSON AND LIVESTREAMING

Brexit, the Protocol, the Belfast Agreement: The winners, the losers and the casualties

Doug Beattie MLA

Leader, Ulster Unionist Party (UUP)

3-4pm Wednesday 23 March 2022

CACSSS Seminar Room

(Room G27, O'Rahilly Building)

Register here
Doug Beattie is the Leader of the Ulster Unionists, the largest Party involved in the 1998 negotiations that resulted in the Belfast/Good Friday Agreement (B/GFA). Doug entered politics in 2014 as a local councillor, then in 2016 was elected to the Northern Ireland Assembly (in both cases, at the first time of asking). He has held the Party's Justice portfolio since he became an MLA.

Doug is a military Veteran. Having started his military career in 1982, his first deployment was to Berlin where he guarded Rudolph Hess in Spandau Prison. From there he progressed through the military from the rank of Ranger to hold the present rank of Major. Through his long military career Doug has seen operational service in Bosnia, Kosovo, Sierra Leone and Somalia as well as multiple tours of duty in Iraq and Afghanistan. For his service he has been awarded the NATO Meritorious Service Medal, the Queens Commendation for Bravery and the Military Cross (MC). He left regular military service in 2010 and is presently an army reservist having completed just short of 40 years in uniform.

The UCC Jean Monnet Lecture series is supported by the Erasmus+ Jean Monnet programme.
For more on this story contact:
Dr Mary C. Murphy
Senior Lecturer, Department of Government & Politics, University College Cork
Jean Monnet Chair in European Integration
President, Irish Association for Contemporary European Studies www.iaces.ie