Curated for You
Curated for You
UCC President John O'Halloran launches UCC Gaisce Project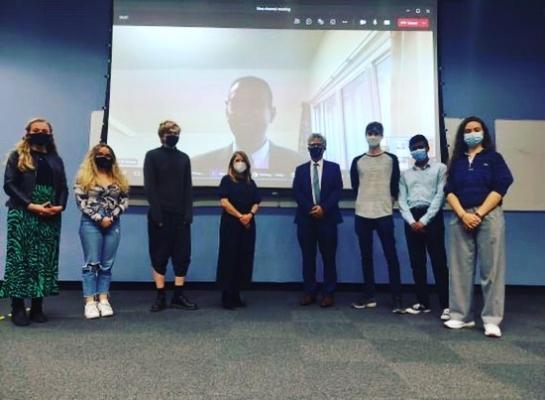 The UCC Gaisce Project was officially launched on October 11, at 6pm, in Boole Basement 4, as part of UCC Community Week. Guest speakers included the President of UCC, Professor John O'Halloran, the CEO of Gaisce, Yvonne McKenna, and UCC Alumnus and Member of the Gaisce Council, Dr. Ali Khan.
Professor John O'Halloran became the 16th President at University College Cork in September 2021, having guided UCC through the pandemic as Interim President since September 2020. He is an academic leader with an ambitious vision for the future of higher education, and an advocate for inclusivity in education, the transformative power of collaboration and forging a sustainable future. Professor O'Halloran is committed to developing an inclusive culture at UCC, where equality is upheld, and diversity is respected. He is dedicated to putting sustainability at centre stage in UCC, in the community and beyond. Under his leadership UCC became the first third level institution worldwide to receive the Green Campus award in 2010 and is now ranked as one of the most sustainable universities in the world.
Yvonne McKenna is CEO of Gaisce – The President's Award. She believes passionately in the power of volunteering to create better societies – more tolerant, equal, inclusive, cohesive and questioning – and is particularly interested to ensure young people are encouraged and supported to be active in their communities, and shape them. She has been an active volunteer for over 25 years, currently sits on the National Volunteering Strategy Implementation Group and is a board member of Henrietta Street School. Prior to Gaisce, Yvonne was CEO of Volunteer Ireland and dedicated almost a decade of her career to developing volunteering infrastructure in Ireland.
Ali Khan is a UCC Alumnus and currently serves on the Gaisce Council (Board of Directors). He is also currently completing an MSc in Global Governance and Diplomacy at the University of Oxford. Prior to this he practiced as a Dentist/Dental Surgeon in private practice in Dublin and concurrently obtained an Executive MBA with Distinction from Trinity College Dublin. He graduated in Dentistry/Dental Surgery from University College Cork in 2016, where he served as Chairman of the UCC Student Council, and received numerous university and national honours & awards, including the prestigious Gaisce: President's Gold Award from President Michael D. Higgins and the UCC Student Leadership Award from President of UCC, Dr. Michael Murphy.
Our Launch has been made into a podcast with the support of UCC98.3FM. Our episodes are available at these respective links.