News 2023
News 2023
UCC awarded research funding to bring innovative solutions to industry challenges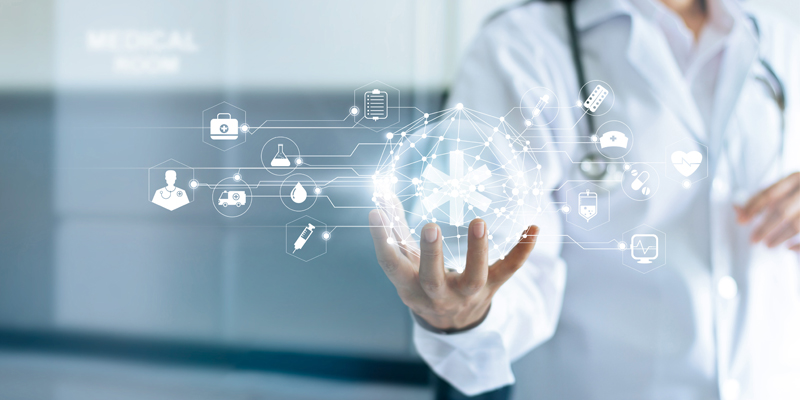 Innovative technological improvements in healthcare evaluation and improvements in patient diagnosis and treatment among UCC projects granted funding.
Three UCC projects awarded a combined €255,000 in SFI Industry RD&I Fellowship Programme awards.
Technological improvements in the evaluation of acute stroke and a multiplex monitoring system that improves patient diagnosis and treatment are among the projects at University College Cork (UCC) that have been awarded €255,000 in funding from Science Foundation Ireland (SFI).
The funding has been made available through the SFI Industry RD&I Fellowship Programme, aimed at developing cutting-edge innovations across a variety of areas including microbiology, virtual reality, biotechnology, photodynamic therapy and more. Today's announcement represents funding in three projects which will deliver impactful research in areas of excellence which align to the UCC Futures framework.
Among the research projects that will be funded to bring innovative solutions to industry challenges are:
Dr Brince Kunnel (Tyndall National Institute): The major purpose of this research project is to create the next generation of therapeutic in-line multiplexed monitoring devices. The benefits of moving patient testing from a central laboratory to the bedside include faster diagnosis and treatment. To tackle this challenge, development of a single platform that facilitates simultaneous evaluation of multiple biomarkers in real time minimizes sample consumption, technician time, and reagent volumes while enhancing specimen throughput is highly necessary. Multiplex monitoring, rather than a single molecular assay, may be more useful for disease screening and assessing several physiological processes that contribute to disease activity and prognosis.
Dr Alessandra Imbrogno (Tyndall National Institute): Acute ischemic stroke is caused by an obstruction forming in a cerebral artery and blocking blood flow and is more common than haemorrhagic stroke. Large bore catheter devices are currently used in the evaluation of acute stroke; however, the current catheter technology is reaching limits in how small it can be, impeding access to the thinnest blood vessels in the brain. The UltraLube project proposes to advance the miniaturisation of catheters through the introduction, for the first time in this sector, of controlled deposition techniques to produce lubricious, wear-resistant polymer coatings with thicknesses well below the current limit of 13µm.
Dr Kusuma Urs (School of Chemistry): Current heating devices offer limited applications in terms of precision, mobility and cost. There is a need for the development of miniaturised heater arrays that can be integrated into Complementary Metal Oxide Semiconductor (CMOS) technology. The central aim of this project is to develop and deliver the science and technology to fabricate selective and stable micro heater arrays for flexible and portable biosensing and electronics applications.
The researchers in receipt of this fellowship are provided with an opportunity to be immersed into industry and gain relevant business knowledge and experience. Industry partners hosting the researcher will benefit from the expertise of the Fellow being embedded in their company, brining innovative solutions to industry challenges.
The industry partners collaborating on the 18 national awards will provide co-funding with a combined value of €1.34 million. The SFI Industry RD&I Fellowship programme runs in collaboration with IDA Ireland and Enterprise Ireland.
Congratulating the award recipients from University College Cork on their awards, Prof. John F. Cryan, UCC Vice President for Research and Innovation said: "These projects will develop cutting edge innovations across areas that align with our UCC Futures framework – Future Medicines and Sustainability. The researchers will embed their research into innovative solutions for industry, resulting in potentially game changing impacts that aligns with the strategic plan of the University."
Announcing the projects, Minister Simon Harris, TD, said: "I am delighted to announce the SFI Industry RD&I Fellowship Programme recipients who will undertake new transformative research in companies. Our research community continues to pioneer cutting-edge, innovative research ideas. The research projects selected for this funding are a testament to the talent that exists in our Higher Education Institutions, and I look forward to seeing the outcomes generated through this programme which will shape the years ahead."
Commenting on the new awards, Professor Philip Nolan, Director General of Science Foundation Ireland, said: "Encouraging and supporting ambitious and innovative research collaborations with industry is a core objective of Science Foundation Ireland. The SFI Industry RD&I Fellowship Programme was developed with this in mind. The research projects awarded funding are at the cutting edge of innovation. The programme creates exciting opportunities for researchers and enhances the industry partners' competitive advantage and future resilience. These Fellowships often also lead to longer-term collaborations between industry and academia."
Professor Anita Maguire, Head of UCC School of Chemistry, congratulating Kursuma Urs, said "Chemistry has a key role to play in ensuring a sustainable society – this research will play a key role in delivering advances built on state of the art technology."
Applications for the 2023 SFI Industry RD&I Fellowship call are now open with two submission deadlines. The first submission deadline is on 13 June 2023; the second submission deadline is on 3 October 2023.