News 2018
News 2018
Institute of Chemistry of Ireland's 2018 Eva Philbin Award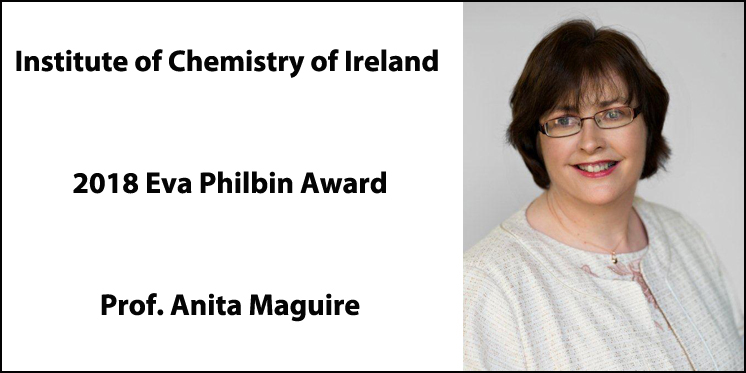 Congratulations to Prof Anita Maguire on winning the Institute of Chemistry of Ireland's 2018 Eva Philbin award.
This award was inaugurated by the Institute of Chemistry of Ireland in 2005 and since 2007, is named in memory of the late Eva Philbin, who was Professor of Organic Chemistry at UCD. The award, consisting of a commemorative plaque, is made to a practicing chemist, who has an international reputation for having made a significant contribution to the advancement of chemistry and who is also an excellent science communicator.
A graduate from Chemistry in UCC (BSc 1985, PhD 1989), Anita commenced her academic career in UCC in 1991, following postdoctoral research in Belgium and UK. Her research team is internationally recognized for its work in synthetic organic chemistry and medicinal chemistry. Extensive collaboration with the pharmaceutical industry nationally and internationally is a key feature of the research team. She is a Co-PI in the Synthesis and Solid State Pharmaceutical Centre. Since 2011, she is the Vice President for Research & Innovation in UCC.