News 2016
News 2016
The AbbVie Student Prize Awarded to Hannah Hayes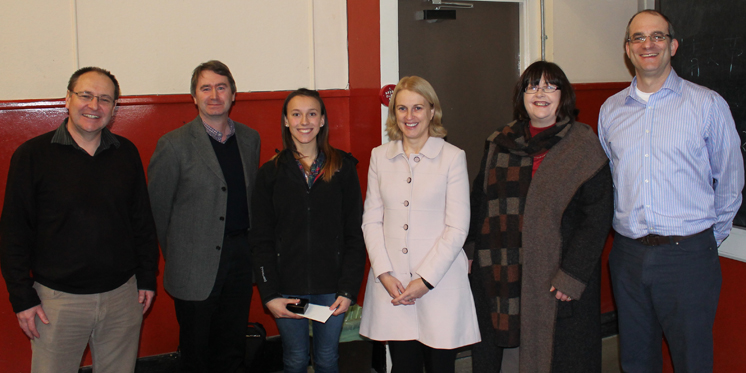 The very first award of the AbbVie Student Prize for Excellence in Third Year Organic and Pharmaceutical Chemistry was made on Monday February 15, 2016. The prize was won by Hannah Hayes, who is in the third year of the B.Sc. Chemistry of Pharmaceutical Compounds degree.
The prize, including a medal and voucher, was presented to Hannah by Dr. Mairead Dunne of AbbVie at a ceremony attended by third year B.Sc. Chemistry, B.Sc. Chemistry with Forensic Science and B.Sc. Chemistry of Pharmaceutical Compounds students. Also present were Professor Justin Holmes, Head of the Department of Chemistry, Professor John Wenger, Deputy Head of Chemistry, Professor Anita Maguire, Vice-President for Research and Innovation UCC and Dr. Humphrey Moynihan, Acting Head of Organic Chemistry.
AbbVie is a global biopharmaceutical company, founded in 2013, focused on addressing some of the world's greatest health challenges by bringing leading-edge therapies to the market. AbbVie has a diverse product portfolio including several market-leading medicines. The company has twelve manufacturing sites and six research and development sites globally, including the AbbVie Cork site at Anngrove, Carrigtwohill, which is a 11,800 m2 facility operated by approximately 150 employees manufacturing anti-viral, cholesterol-lowering and other medicines. AbbVie has formed strategic links with several Irish third level institutions, particularly through its participation in the SFI Synthesis and Solid-state Pharmaceutical Centre (SSPC). Through its SSPC and other links, AbbVie supports a range of awards, internships and outreach activities in critical STEM disciplines. Recognising Chemistry as one of the vital sciences underpinning the manufacturing and formulation of pharmaceuticals and medicines, AbbVie and the Department of Chemistry UCC established the AbbVie Student Prize for Excellence in Third Year Organic and Pharmaceutical Chemistry to support students at a critical stage of their undergraduate careers. The prize further enhances AbbVie's links with UCC in pharmaceutical sciences and complements UCC's commitment to the SSPC, in which both Prof. Maguire and Dr. Moynihan are Principal Investigators.
As well as being the first recipient of the AbbVie Prize, Hannah Hayes has just returned from a year of study at the University of California at Irvine as part of the UCC / University of California Exchange Programme. While in the U.S., Hannah arranged to carry out her Chemistry of Pharmaceutical Compounds work placement at the global headquarters of Eli Lilly Pharmaceuticals at Indianapolis Indiana, one of the world's leading pharmaceutical research and development sites. The AbbVie Prize recognises Hannah outstanding performance in Organic and Pharmaceutical Chemistry, and we wish her continued success in the completion of the Chemistry of Pharmaceutical Compounds degree and beyond.