News 2015
News 2015
UCC Alumni Achievement Awards 2015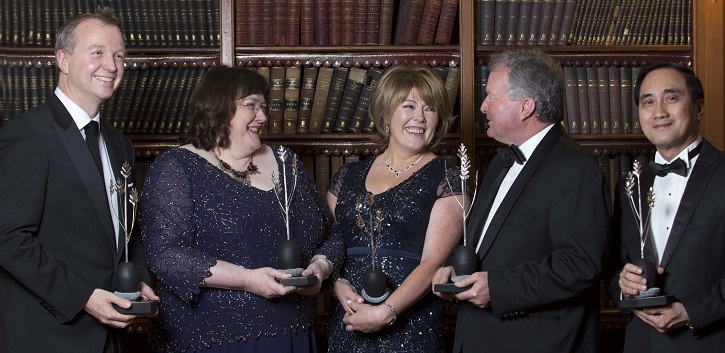 A distinguished UCC chemistry graduate, Dr. Piniti Ratananukul was the recipient of a prestigious Alumini Achievement Award at the 2015 UCC awards ceremony hosted by the President, Dr. Michael Murphy in the Aula Maxima on the evening of Friday 27th November, 2015.
Dr. Ratananukul recently retired as Secretary of the Government of Thailand Higher Education Commission – a post in which he reported directly to the Prime Minister. He was awarded a Ph.D. by the National University of Ireland in 1983 for a thesis entitled "Reactions of α-Diazoketones with Sulfur-based Reagents and Studies towards the Synthesis of Dodecahedrane". The organic chemistry research incorporated in his thesis was carried out in the Kane Building UCC under the supervision Professor M.A. McKervey (currently an Adjunct Professor of Organic Chemistry in the University).
As a recipient of the Award, for which he was nominated by the Head of the College of SEFS, Dr. Ratananukul joins with two other chemistry researchers who have already been honoured with Alumni Awards: Mr. Leslie Buckley ( M.Sc., 1969) received the award in 2013; Dr. Paul Ahern (Ph.D., 1979) was recognised in 2010. During his visit to UCC, Dr. Ratananukul called to the laboratory (Kane 4.15) where he carried out his postgraduate research and enjoyed reminiscing about his time in Cork and in recalling the names of postgraduate students and staff of the Chemistry Department in the early 1980s.