News
News
The Anaesthesia Newsletter July 2021
ROTATE FOR A NEW EXPERIENCE
Dr Parvaiz Hafeez, Consultant Anaesthetist and College of Anaesthesiology Tutor
The last year and a half have been very challenging and difficult due to Covid disease and its social restrictions. During this period, trainees in the specialty of anaesthesia and intensive care medicine faced lots of stressful situations and long hours but they served with extreme professionalism and bravery. We really are very proud of our doctors for their brilliant performance in these exhausting months.
A lot of credit goes to the trainees and consultants for organising team building activities cycling, running/walking and kayaking. Let's hope that Covid will be a thing of the past and that life moves towards normality.
Undoubtedly, trainees rotating within the various anaesthetic departments as well as doctors coming from other cities will enjoy their time here & experience great clinical exposure and learning. Obviously the cultural and social component of this region is amazing, and we hope you enjoy it.
Wishing you all the very best!
DEPARTMENT UPDATES:
CUMH COVID drill:
On 21st June, CUMH delivery suite and theatre staff held a COVID drill. This was a great opportunity to revise the steps involved in caring for our mothers and babies, as well as keeping ourselves and others safe, in the context of the ongoing COVID pandemic.
ACADEMIC UPDATES:
Recent publications:
"Chest Wall Regional Anesthesia for Modified Radical Mastectomy and Axillary Lymph Node Dissection: A Case Report". Pradipta Bhakta, Kevin Mac Sweeney, and Brian D. O'Donnell, cases-anaesth-analg number 6, vol 15 2021
SPOTLIGHT SECTION:
ASSERT CAST Simulation Courses:
Dr Paudie Delaney, Consultant, CUH
The role of simulation-based training in anaesthesiology has increased since the introduction of modern high-fidelity simulators to medical education in the 1980's. The benefits of simulation include facilitating training in technical and non-technical skills without the risk of harm to patients.
We have supported the College of Anaesthesiology Simulation Training (CAST) program at the ASSERT Centre at UCC for over 10 years. These courses include the ARREST (Anaesthesiology Related Rare Emergencies Simulation Training), AE (Anaesthesiology Emergencies), COAST (Crisis in Obstetric Anaesthesiology Simulation Training) and SICC (Simulation in Intensive and Critical Care) courses. The inaugural SICC course, led by Dr Anne-Marie Leo, was held at the ASSERT Centre in December 2020 and was a great success.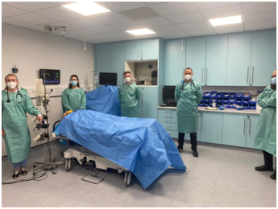 The COVID pandemic has impacted on the format and delivery of teaching in anaesthesiology and intensive care medicine, and this is also true for simulation-based education. To facilitate the safe delivery of CAST courses in the ASSERT center, new practices have been developed to allow teaching to continue in accordance with social distancing guidelines. Participant numbers have been reduced, mandatory personal protective equipment is provided, and participants bring their own stethoscopes. These new practices have allowed us to deliver all CAST courses this year without incident.
Recently the ASSERT CAST faculty has expanded and now includes Consultant Anaesthesiologists from University Hospital Kerry, University Hospital Limerick, Mercy University Hospital, South Infirmary University Hospital, Bons Secours Hospital and Cork University Hospital. These new faculty members represent a huge addition, providing years of simulation experience and expertise which will greatly benefit the ongoing delivery of anaesthesia simulation teaching at the ASSERT Centre in the future.
GOOD NEWS:
Congratulations: to Dr Orna Ní Choileain, CUH, on her recent wedding. We wish you both the very best of luck in the future.
Souvenir coffee mugs: a big thanks to Dr Frank Loughnane who organised coffee mugs for everyone on the anaesthetic team in the CUH. These will be treasured mementos of an eventful period in our lives. Not one for the dishwasher!
DEPARTMENTAL ACTIVITIES:
Farewell party: on Friday 11th June we said goodbye to Dr Emmi Ylikoski, Consultant Anaesthetist. Emmi brought in a vast supply of doughnuts for the anaesthetic department and for the theatre tea-room. After spending 2 years working in the CUH she has returned to her native Finland. Näkemiin ja onnea tulevaango; goodbye and good luck in the future!
Piracy on the high seas:
Dr David Roche
On two Saturdays in June, members of the CUH anaesthetic departmental went kayaking under the watchful eye of the instructors at Oysterhaven Activity Centre. With little fuss, the staff had us measured for wetsuits and buoyancy aids and we were on the water before we knew it. Reports from the second outing suggest that there was a significantly increased risk of capsizing – directly proportional to proximity to 3 identifiable risk factors – namely Kim O'Brien, James Purcell and Liam Murphy!!
| | |
| --- | --- |
Following a leisurely kayak across the bay, we were then urged to attempt kneeling and standing in our kayaks in open water. Whilst the risks of getting wet far outweighed the, as yet unknown, benefits of standing on one's kayak, there was little hesitation amongst the group. There were people kneeling, standing and subsequently falling from their kayaks in no time! This activity progressed to a kayak walk on the second outing, where the group lined up their kayaks side by side out in the water and attempted to walk across them. During the kayak walk newcomer Avril McCarthy, in a bold move, introduced herself to the head of department by "accidentally?" loosening her grip on the adjoining kayak and causing him to stumble headfirst into the sea!
| | |
| --- | --- |
With kayaking mastered, we then tried our hand at stand-up paddle boarding. On a giant paddle board holding 5 people we attempted to propel ourselves towards the pontoon in the middle of the bay. Not as easy as it sounds, however if simultaneous vocalisation of conflicting instructions coupled with hysterical laughter had the ability to perpetuate forward motion, we would have been around the old head of Kinsale in no time! We did get the hang of it after a while and managed to navigate to the pontoon, where we attempted the "moon walk". This involved running the length of a 15-foot inflatable cylinder floating in the sea without falling off. It is just about as difficult as it sounds, and while some on the 12th made it to the end – only one person on the 19th did so. Particular credit should be given to the non-swimmers of the group who partook in all activities. I'm sure that well-meant reassurances from the group such as " it's impossible to drown in that lifejacket" were encouraging! After the moonwalk and a quick swim, we headed back to dry land, a thoroughly enjoyable morning had by all. Many thanks to Oonagh Hickey for organising the event and to Robert Plant for taking so many photos of our triumphs, indignities, and random acts of piracy.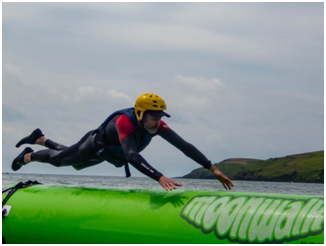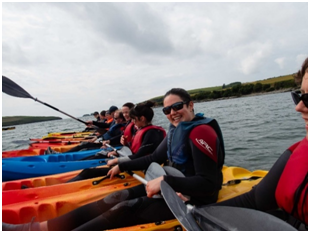 LOCAL INTEREST:
Pirates ahoy!

Instructors at Oysterhaven Activity Centre sometimes point out Pirate Pete's cave to the children- where Pirate Pete's crew used to hide treasure and gunpowder- until one of them accidentally lit a match. The children are told that at low tide, bits of gold are still visible in the walls of the cave. This is perhaps just a story told to entertain young children, however, the southwest coast of Ireland was once a haven for pirates and smugglers- especially in the 16th and 17th centuries. Roaring Water Bay was the base for Sir William Hull. Despite being appointed Deputy Vice Admiral of Munster, his castle became the hub for pirates in the north Atlantic, handling stolen goods such as pepper and sugar. Some local taverns accepted Spanish dollars ("pieces of eight") and pirates even served on Juries on Sherkin Island. If you go for a kayak with Gecko Adventures in Courtmacsherry, you can see steps carved into the rock just beyond Woodpoint. In Dutchmans Cove in Crookhaven, which boasted up to 1,000 resident pirates in the 1600's, similar steps can be found with convenient carved spaces for lanterns. Smugglers Cove in Rosscarbery is now home to an outdoor tubing and adventure park.
A pirate's life could be brutal and short- and no mercy was shown if caught by the authorities. The bodies of executed pirates were displayed at Pirate Point in Kinsale Harbour as a warning to others. The lovely village of Baltimore (photo) was also a haven for smugglers and pirates. However, one of the most notorious acts of piracy occurred on June 30, 1631, when Baltimore was attacked at night by more than 200 pirates from Algiers, North Africa, led by Dutchman Jan Janszoon. At least 107 villagers, mostly English settlers, were taken away in chains to be sold as slaves in North Africa.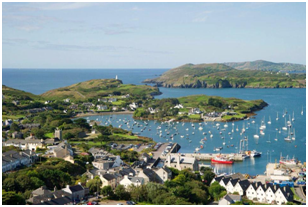 Anne Cormac was born near the Old Head of Kinsale around 1698. She emigrated to America and at 16, against her families wishes, she married a small-time pirate called James Bonney. She then ran off with "Calico" Jack Rackman, a notorious pirate who is credited with inventing the "skull and crossbones" pirate flag and who was the inspiration for Captain Jack Sparrow in "Pirates of the Caribbean". Joining forces with Mary Read, they terrorised the Caribbean until they were finally cornered. The crew hid in the hold, probably too drunk to fight. Mary Read, Anne Bonney and one other crewman were left to fight alone. The women were both pregnant and were spared, but Calico Jack was sentenced to hang. Anne Bonney's last words to him were "I am sorry to see you here, Jack, but if you had fought like a man, you would not now be hanged like a dog". Anne Bonney graces the cover of the "Ireland's Pirate Trail" and is honoured on the "stoney steps" in Kinsale.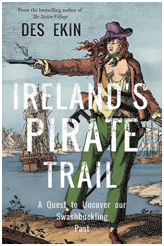 Smuggling still occurs along the Coast of Ireland, and the treasure is drugs destined for the Irish and European market. In 2007, 65 bales of cocaine from South America worth 440 million euros were washed into the sea when diesel was accidentally used to fill a petrol engine on the small boat used to transfer them to land near Mizen Head. This inspired the 2016 "Young Offenders" movie.
The Oysterhaven Centre | Sailing Centre Cork | Windsurfing Centre Ireland | Multiactivity Summercamps Cork
Gecko Adventures Outdoor Activity Centre, Courtmacsherry
Pirates of West Cork :: Smugglers Cove
Smugglers Bonney (Bonny), Anne | Dictionary of Irish Biography (dib.ie)Cove
CROSSWORD CORNER:
Dr Hanin Hamza
Please find attached the crossword included in the June newsletter and the answers.
Dr Niamh Coughlan, CUH, was the first to return the correctly completed crossword. The mystery grand prize was….. a book of crosswords!