News
News
"Machine learning will enhance training of anaesthetists"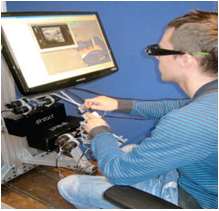 "In anaesthesia and critical care, as in medicine in general, use of machine learning makes it possible for every new patient to take direct advantage of the data and experience accumulated by the treatment of a large number of previous patients with a similar condition." This is the claim made in an editorial in the British Journal of Anaesthesia by Dr Karthik Srinivasan (Tallaght Hospital, Dublin), Dr Ingerid Reinertsen (SINTEF, Norway) and Prof George Shorten (UCC).
The claim is made on the premise that Big Datasets arising from video of medical procedures (such as ultrasound-guided Peripheral Nerve Block or surgical operations) provides a ready made source of "training" data for improvement of performance using artificial intelligence. To make sense of this data, procedures need to be carefully characterised in the form of metrics and errors, such as that conducted by Dr Srinivasan and others over the past decade. This enables specific behaviours, and therefore collections of data, to be used as markers of good or bad performance quality. The article proposes that clinicians, educators and data scientists co-operate to develop data-based models of certain procedures which learn/improve over time as more performance and outcome data are introduced – the result, the authors claim, will enhance performance quality, deliberate practice training and medical device design.