Campus Watch
Campus Watch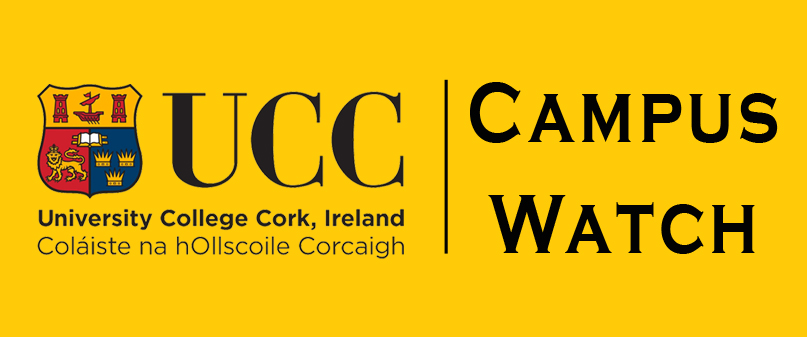 Campus Watch
University College Cork is committed to creating a safe and secure environment for UCC students and to foster a positive relationship between our students and the wider community. Campus Watch will respond to formal complaints from students, member of the community and other stakeholders, in relation alleged breaches of the UCC Standards of Conduct.
Key Action Areas
Managing and promoting Campus Watch
Working with Neighbourhood Watch Groups, Gardai, students and residents associations in areas of common interest
Promoting student safety on campus, out and about and at home
Responding quickly to complaints and concerns in relation to student behaviour
Developing strong links with community groups
When necessary, initiating formal student disciplinary procedures
Providing Mediation where necessary
Standards of Conduct
The University requires its students to conduct themselves in an appropriate and reasonable manner at all times to ensure:
Dignity, honesty and integrity
Respect for all members of Staff
Respect for fellow Students
Respect for and adherence to the Rules, Regulations and Policies of the University
Compliance with the academic processes of the University
That the University is not brought into disrepute
Respect for local residents and other members of the general public
That the views, values and beliefs of others are respected
That no damage or injury is caused to any person or property
That the University community is free from intimidation and discrimination
How can you make a complaint?
If you feel that a UCC student, or students, have breached any of the above standards of conduct, please fill out the Campus Watch Complaint Form below and return to the Campus Watch Office.
Contact
Name
Telephone Number
Campus Security

+353 (0) 21 490 3111

+353 (0) 21 490 2266

Campus Watch - Gary Mulcahy

+353 (0) 21 490 2103

+353 (0) 87 192 8619
Garda Campus Watch Booklet 2018
The Garda Crime Prevention and Community Engagement Units, along with the Union of Students in Ireland, have created a Campus Watch Booklet to highlight safety issues and give practical advice for students.
This booklet is available in 5 languages. Please click on the relevant link below to view the booklet.
Garda Stations near UCC
| | | |
| --- | --- | --- |
| Station | Opening Hours | Telephone Number |
| Anglesea Street | Open 24 hours | +353 (0) 21 431 3031 |
| Bridewell | Open 24 hours | +353 (0) 21 454 1012 |
Emergency Numbers Ireland
In the event of an emergency call 999 or 112 from a mobile