News/Newsletters
News/Newsletters
School of Microbiology Annual Research Day 2023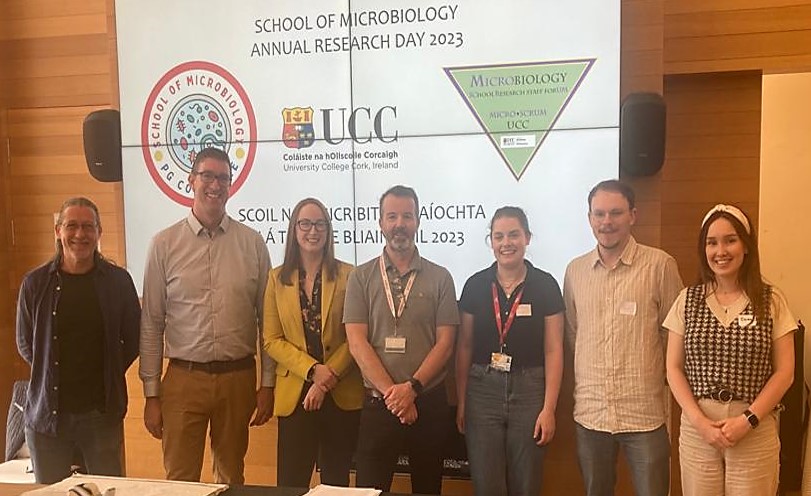 This event was organised by the School's Graduate Studies Committee in partnership with the Postgraduate Committee and The Micro.SCRUM Research Forum.
The morning began with a workshop hosted by Ms Emer O'Shea from UCC Innovation. Attendees were then joined by past graduates of the School, Dr Robert Phelan (Associate Director QCL Microbiology at Eli Lilly) and Dr Ciorsdan Campion (QC Release Manager at Biomarin), both of whom spoke about their journey from postgraduate student to leadership roles in their respective companies.
The afternoon session took the format of poster presentations which were very well attended by the School of Microbiology community. Flash presentations by postdoctoral researchers each hour gave a great insight into the work being done in the School, and also offered a connection for PG students to network through.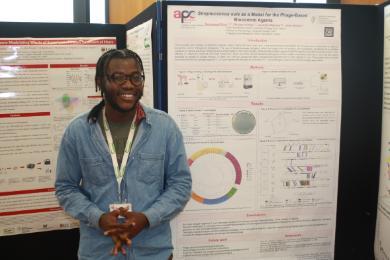 Picture: Emannuelle Osei, PhD student School of Microbiology, presenting his research poster.
The Head of School, Dr David Clarke, presented Clodagh Carr (pictured below) with the Prof. Gerald Fitzgerald Research Award for her publication of the year entitled "Identification of BgP, a cutinase-like polyesterase from a Deep-Sea Sponge-Derived Actinobacterium". A great day was had by all, the planning for next year is already in train.