Archive News
Archive News
Ian wins UCC contest for his work on Crohn's Disease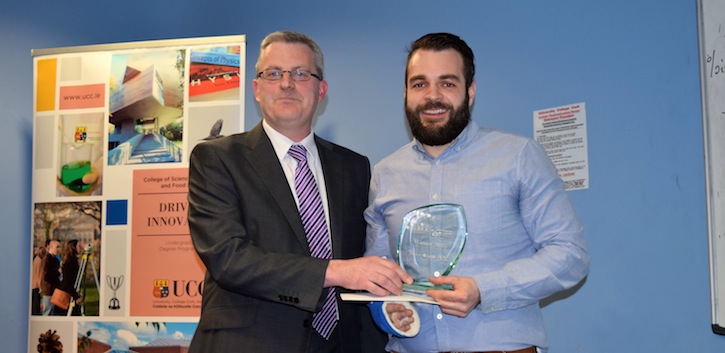 Ian O'Neill of UCC's School of Microbiology has won the 2015 UCC Science for All competition.
Ian really impressed the judges with his talk "Crohn's disease: When good bacteria go bad". He follows in the footsteps of previous winner Fergus McAuliffe, who now contributes to RTÉ's Science Squad.
The UCC Science for All competition is now in its 11th year. It challenges young scientists to communicate the excitement of their research to the general public in an easily understandable manner, without using jargon.
Ian O'Neill is a local student from Turner's Cross, Cork City. He holds both a BSc and an MSc in Physiology from UCC. After working for a time in Apple Computers, Cork and taking some time out to travel around New Zealand, Ian returned to his studies to undertake an MSc in Computational Biology and Bioinformatics at the University of Manchester. His current research, supervised by Dr David Clarke as part of UCC's Molecular Cell Biology PhD Programme, is on bacteria associated with Crohn's Disease and the effect these bacteria have on the immune system.
Other fascinating talks on the night included:
"Life in 3D is never flat!!" – Kathleen Fitzgerald
"Where are the birds and how are they affected by forests?" – Usna Keating
"Want faster internet at home? You need a laser" – Prasanna Ramaswany
"Three Blind Mice take the contraceptive pill" – Alice Wyse-Jackson
Welcoming the audience, Professor Paul Ross Head of the College of Science, Engineering and Food Science said: "The Science for All competition is a fantastic vehicle for students to learn competencies on how to communicate the excitement and intricacies of their research to the public in an enjoyable and informative context."
The panel of judges for the final was chaired by John Dolan, Features Editor, Evening Echo and also included Donna O'Driscoll, Director of Marketing & Communications, UCC, Dr Angela Sheahan, Food Industry Training Unit, UCC and past-President Speak Easy Toastmasters, Mallow and Mr Ian Winning of the Transportation Division, Cork City Council. Professor William Reville, Professor Emeritus, UCC was MC for the evening. Snatch Comedy group provided the entertainment at the intermission.