News
News
Neurobell wins IGNITE Best Business Award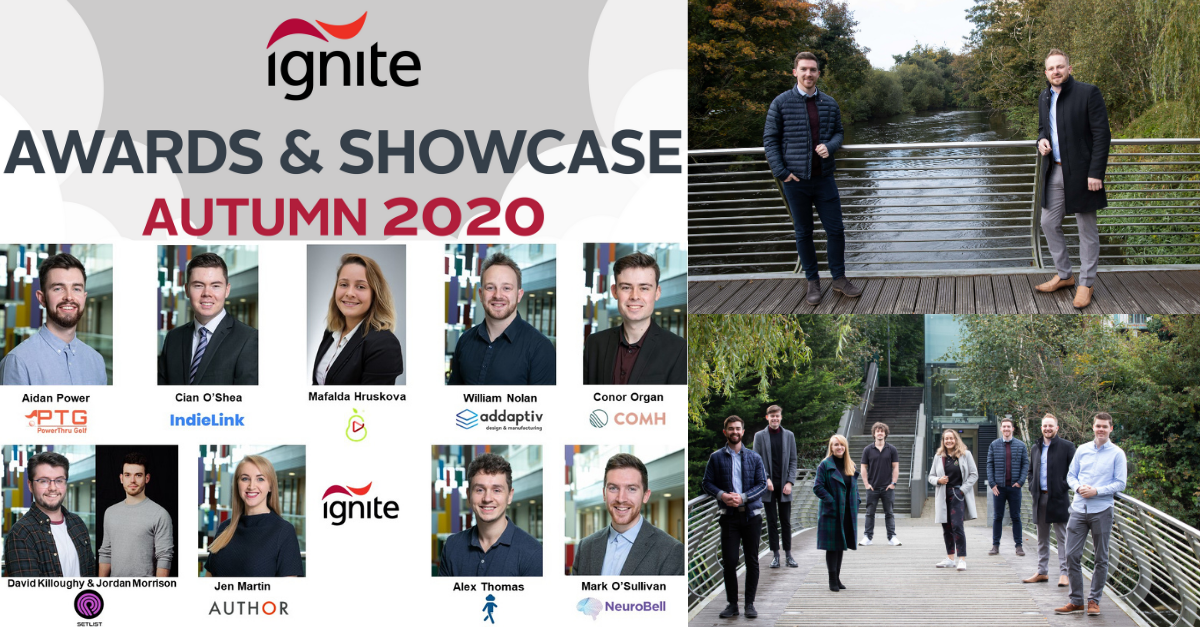 Neurobell a company developing a diagnostic medical device for the early detection and monitoring of brain injuries in newborns has been named Bank of Ireland/IGNITE Best Business.
Project Lead, Mark O'Sullivan is PhD research student in the INFANT Research Centre and Embedded Systems Research Group in UCC as an IRC Postgraduate Scholar.
Neurobell was recognised at the online Autumn 2020 IGNITE Awards & Showcase on Thursday 15 October 2020. The awards and showcase which celebrates the achievements of the IGNITE12 cohort was held online and attracted an audience of over 450 registered guests.
Two further awards were also announced on the night to recognise business planning and innovation. Winning the award for IGNITE Best Business Plan and Best Video Pitch was William Nolan, founder of Addaptiv. The company is establishing an Industry 4.0 Design & Manufacturing centre for customers, who can realise the benefits from Additive Manufacturing. They develop new products along with providing a localised, digital supply chain for their customers, using both Plastic and Metal 3D Printing.
Other finalists included, Jen Martin of AUTHOR International, Cian O'Shea of IndieLink, Conor Organ of COMH Health, Aidan Power of PowerThru Golf, Mafalda Hruskova of Pairshare, Jordan Morrison and David Killoughy of Setlist and Alex Thomas of Techwalk.
Chair of the judging panel Derek Horgan, Manager, Bank of Ireland, had high praise for the young companies commenting, "Once again we at Bank of Ireland are delighted to be part of the IGNITE programme again this year. We are always inspired by the founders, their ideas and the quality of their pitches and business plans. IGNITE is a fantastic programme that helps to support entrepreneurs and we are very proud to be a part of it."
Notable past winners of the IGNITE Best Business Award include James Northridge of UrAbility, Marie Casey of Ezi-Vein, Jennifer Hurley of T4 Adventure, Mike Sheehan of Milis Bio, Dr Fiona Edwards-Murphy of ApisProtect and Dr Sinead Bleiel (Doherty) of AnaBio Technologies Ltd.
Developed and hosted at University College Cork, IGNITE is open to all recent graduates from any discipline and from any 3rd level institution in Ireland.
More information is available at www.ucc.ie/en/ignite
If you missed the Awards & Showcase event, catch up and watch it below:
Since 2011, IGNITE has been supporting entrepreneurs through the early stages of their start-up journey and the programme focuses on innovative business models to ensure competitiveness and scalability; validating the business model to ensure the business idea is robust enough to succeed; and developing soft personal skills needed to network, pitch, sell and survive in today's competitive marketplace.