News
News
IGNITE Start-Up Wins Award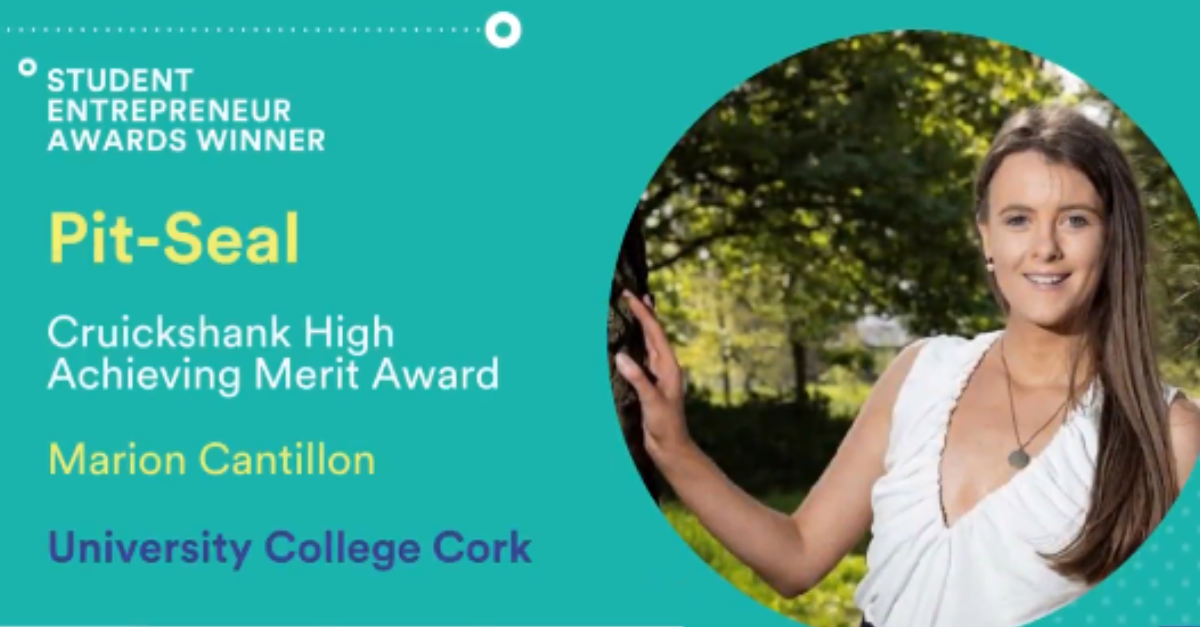 Marion Cantillon, founder of Piteal won the Cruickshank High Achieving Merit Award at the 2021 Enterprise Ireland Student Entrepreneur Awards which took place virtually on 11 June.
The annual Enterprise Ireland Student Entrepreneur Awards is in it's 40th year, and is co-sponsored by Cruickshank, Grant Thornton and the Local Enterprise Offices. The winners share a €35,000 cash prize fund and €30,000 in mentoring support from Enterprise Ireland.
IGNITE Alumni, Marion Cantillon founder Pitseal won a €5,000 high-achieving merit award for her biofilm that eliminates the need for farmers to use plastic or tyres to seal pits and reduces methane emissions.
Along with Marion, there were three other award winners including:
The overall Student Entrepreneur of the Year Winner were Trinity College Dublin students Tim Farrelly and David Deneher, along with Omar Salem from Queen's University Belfast, they created "Field of Vision". The device aims to enable people with blindness or visual impairment to better experience sports games. It uses artificial intelligence to analyse live video feeds of games, translating what's happening on screen to tablet devices through haptic feedback.
Dublin City University's Peter Timlin and University of Limerick's Richard Grimes won a high-achieving merit award for their socially responsible clothing brand, Pure Clothing.
Diglot, a language learning book company founded by Trinity College Dublin students Cian Mcnally and Evan Mcgloughlin, took home a €5,000 prize. This company, which has achieved sales in 19 countries to date, weaves foreign words into English sentences in classic novels, allowing the reader to absorb new vocabulary gradually.
The winner of last year's competition was IGNITE Alumni, Mark O'Sullivan of Neurobell, who developed a device to help detect brain injuries in newborns.
Leo Clancy, CEO of Enterprise Ireland, said the competition provides a platform for students to showcase their business ideas and acts as a "springboard for tomorrow's business leaders".
Tánaiste and Minister for Enterprise, Trade and Employment Leo Varadkar, TD, congratulated the winners. "I'm really impressed by the calibre and ingenuity of the ideas put forward, especially given the significant challenges that came with this unprecedented year," he said.