News
News
IDEAS FOR IMPACT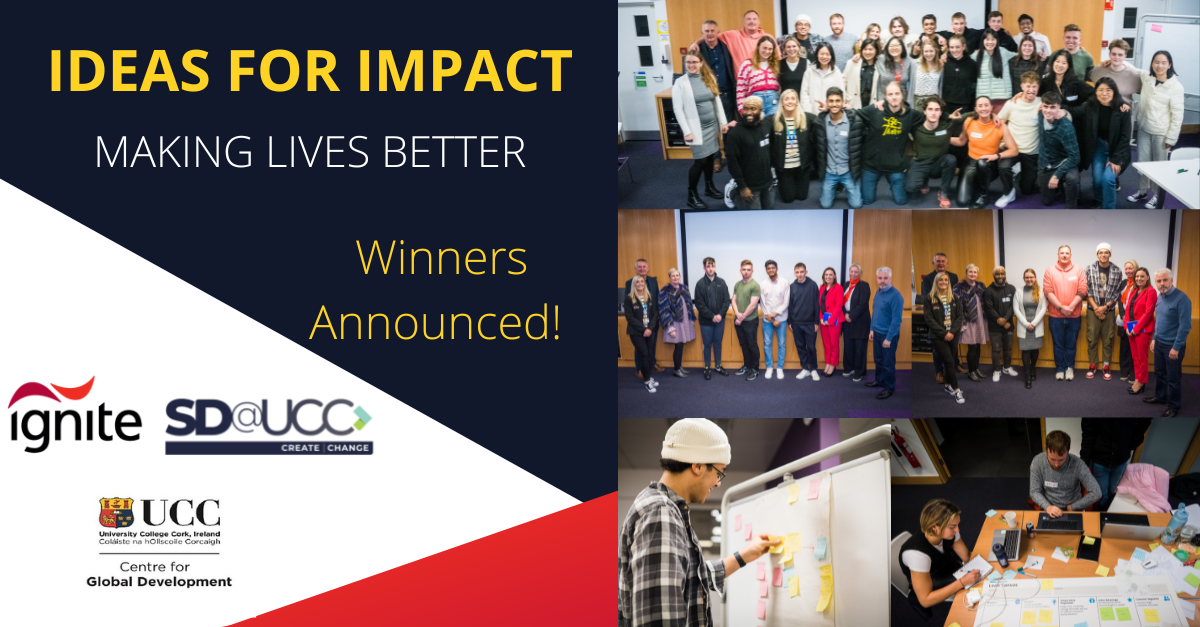 IDEAS FOR IMPACT Autumn 2022 award winners announced.
Friday 11 November the second IDEAS FOR IMPACT event took place in the Digital Arts & Humanities Innovation Space, 4th Floor Food Science & Technology Building, UCC.
IDEAS FOR IMPACT is a 12 hour hackathon designed to find new ideas to solve the world's biggest problems. The theme for this Autumn event was MAKING LIVES BETTER in Lesotho and Malawi with a specific focus on three Sustainable Development Goals: Zero Hunger, Good Health and Wellbeing and Quality Education.
IDEAS FOR IMPACT, Autumn event was run by IGNITE, Strategic Design @ UCC and the Centre for Global Development.
Run over 12 hours, 33 national and international students from a variety of disciplines, level of studies and across the four colleges had to develop an innovative idea that can significantly change the lives of people in Lesotho and Malawi. Over the course of the day, there were a number of sessions on creative thinking, business model development, team working and pitching skills, and there were expert mentors on hand to help throughout the day.
There were two award winners on the day. The first winner was "Hygiene For All", an idea to build a community of people in rural Malawi and educate and provide them with tools to make their own soap. With the lack of access to hygiene products, contamination of water and insufficient funds to pay for hygiene products, 1.3million of children are dying from diarrhoeal diseases each year. The team want to educate and empower these communities while increasing child life expectancy in rural Malawi. The team included Marek Zbankski(Commerce, 2024), Aditya Agarwal (Computer Science, 2023), Ross Heaney(Computer Science, 2023), Damian Gornik (Computer Science) and Jillian Brunner(Psychology & Computing, 2023).
The runner up winner was "Different Abilities" an idea to empower and educate people and spread awareness about intellectual disabilities in Lesotho. Their aim is to help children with intellectual disabilities get the support they need from a young age. The team included Collins Njoku(MSc Public Health, 2023), Lee Murphy (Psychology and Computing, 2023), Robin Lynch (Intellectual Disability Nursing, 2023) and Oleksandra Kaskun (Graduate Entry Medicine, 2023).
These ideas have the potential to have significant positive impact on the lives of many in Malawi and Lesotho in the years ahead. They have the opportunity to be further developed through supports at UCC and are great examples of what can be achieved through IDEAS FOR IMPACT.
The next opportunity to join IDEAS FOR IMPACT is Spring 2023. REGISTER YOUR INTEREST HERE for further details.