News
News
IDEAS FOR IMPACT Spring 2023 Overview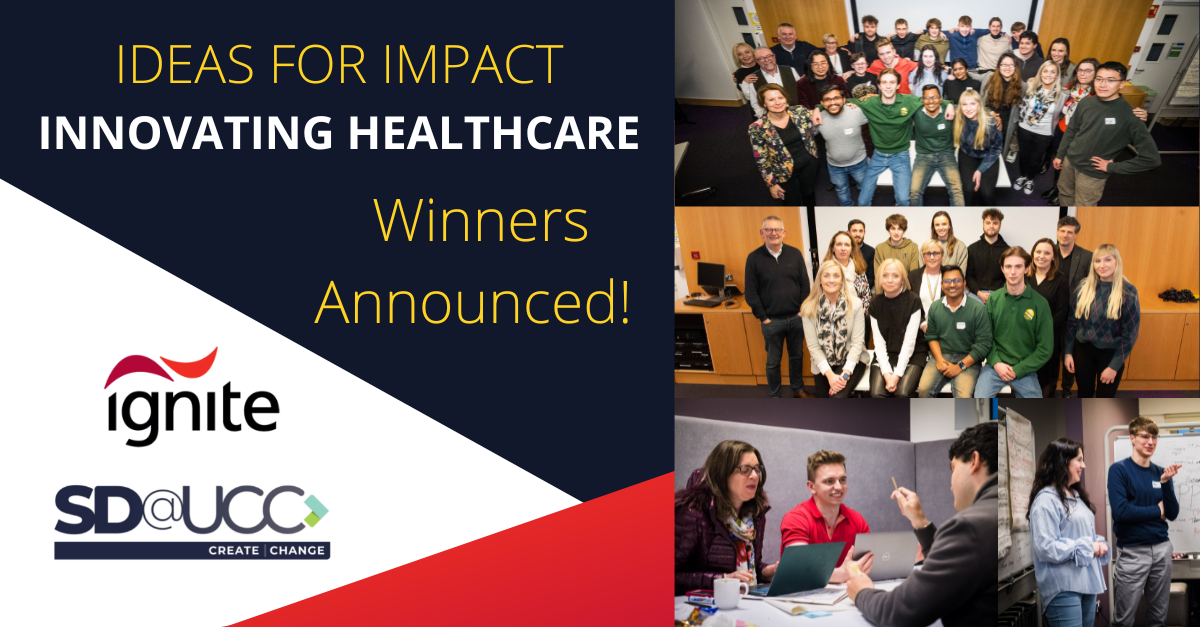 IDEAS FOR IMPACT Spring 2023 "INNOVATING HEALTHCARE" award winners announced.
Friday 24 February, the 3rd IDEAS FOR IMPACT event took place in the Digital Arts & Humanities Innovation Space, 4th Floor Food Science & Technology Building, UCC.
IDEAS FOR IMPACT is a 12-hour hackathon designed to find new ideas to solve the world's biggest problems. The theme for this Spring event was "INNOVATING HEALTHCARE" and it's all about finding innovative ways to overcome challenges faced by healthcare providers.
IDEAS FOR IMPACT, Spring event was run by IGNITE and Strategic Design @ UCC.
Run over 12 hours, 20+ national and international students from a variety of disciplines, level of studies and across the four colleges had to develop an innovative idea that can positively impact the healthcare sector in Ireland. Over the course of the day, there were several sessions on design thinking, business model development, team working and pitching skills, and there were expert mentors on hand to help throughout the day.
There were two award winners on the day. The winning team developed an idea for managing assets within the hospital. According to Hospital & Healthcare Management, a leading B2B magazine, estimated that "between 10% and 20% of a typical hospital's mobile assets are lost or stolen during their useful life … at an average of $3,000 per item." The team wants to help hospitals cut unnecessary financial costs and reduce theft rates of medical assets. The team included Iliya Georgiev (BBus Hons Marketing, 2024), Jack McDonogh (Bsc Hons BIS, 2025) and Sophie Broderick (MB, BCh, and BAO Graduate Entry Medicine, 2024).
The runners up had an idea to help improve the hospital's booking process. Their aim is to improve attendance rates, convenience & reduce unnecessary booking complexities for patients attending hospital appointments. The team included Sophia Kapralchuk (BA Hons Arts, 2024), Narayana Devarapu (MSc Business Analytics, 2023) and Kyle Furney Kelly (BA Hons Economics, 2025).
These ideas have the potential to have significant positive impact on the lives of many in the healthcare industry in the years ahead. They have the opportunity to be further developed through supports at UCC and are great examples of what can be achieved through IDEAS FOR IMPACT.
The next opportunity to join IDEAS FOR IMPACT is Autumn 2023. REGISTER YOUR INTEREST HERE for further details.