News
News
IDEAS FOR IMPACT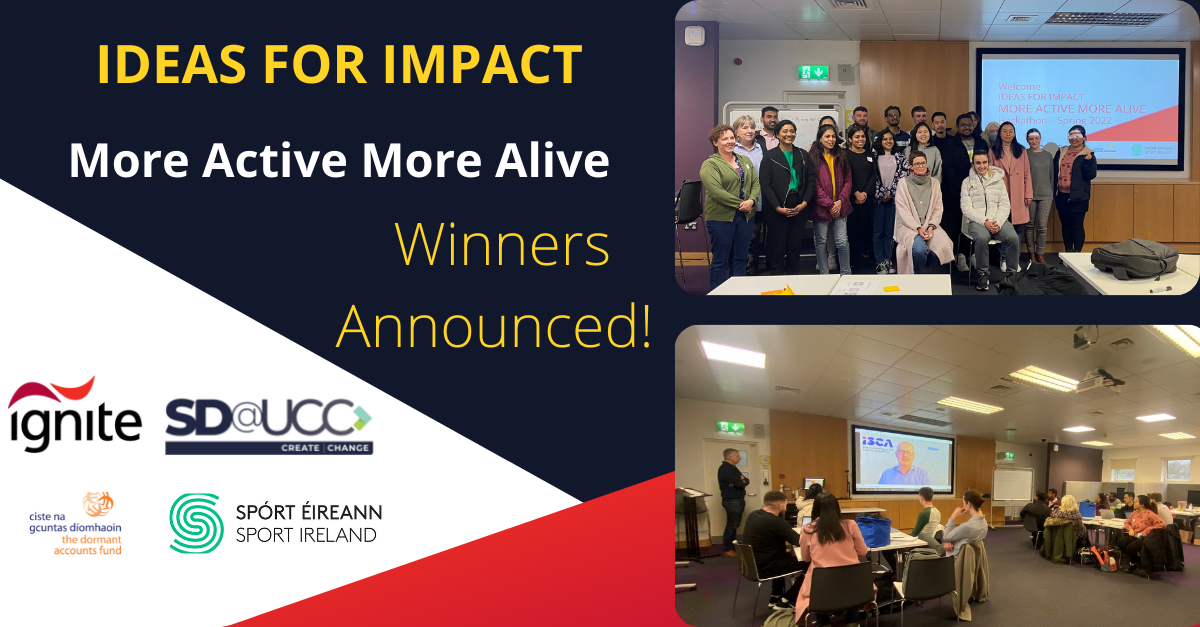 IDEAS FOR IMPACT Spring 2022 award winners announced.
Friday 11 March, the first IDEAS FOR IMPACT event took place in the Digital Arts & Humanities Innovation Space, 4th Floor Food Science Building, UCC.
IDEAS FOR IMPACT is a 12 hour hackathon designed to find new ideas to solve the world's biggest problems. This Spring event focused on the challenge of encouraging more people to be more physically active and so improve their overall health and wellbeing.
IDEAS FOR IMPACT, "More Active, More Alive" Spring event was run by IGNITE and Strategic Design @ UCC with the support of Sport Ireland and the dormant accounts fund.
Run over 12 hours, the participants had to develop an innovative idea that can significantly change how people participate in physical activity in Ireland, improving their health and wellbeing and enhancing their quality of life. Over the course of the day, there were a number of sessions on creative thinking, business model development, team working and pitching skills, and there were expert mentors on hand to help throughout the day.
There were three award winners on the day, two of which came joint first.
The first joint winner was "Park Dance" an idea to encourage the active and the not so active retired to engage in regular physical activity. It's inspired by the Chinese craze of square or plaza dancing and combines the Irish tradition of dancing at the cross roads with the hugely successful Park Run model. The team included Brian Curtin, (BSc Medical & Health Science, 2023), Marian Stout (BA English, 2024), Shuang Xiao (PhD, Digital Humanities, 2023)
The second joint winner was "Social Saturdays" an idea to harness the goodwill of Irish sports clubs to support people from disadvantaged communities to take part in physical activity and sport, with an initial focus on providing a welcoming community through sport for refugees arriving from the Ukraine. The team included Niall Cooke (BA History & Geography), Rie Matsuzaki (PhD Anatomy & Neuroscience, 2024), Mark Vesey (BSc Medicine, 2024)
The runner up winner was "Walkie Wallets", retail discounts to encourage people from disability/disadvantaged backgrounds to walk. The team included: Mary Lawton (PhD Arts, 2022), Ross Moles (BA International 2024), Debismita Dutta (PhD, Engineering Science, 2025)
These ideas have the potential to have significant positive impact on the lives of many people in the years ahead. And are great examples of what can be achieved through IDEAS FOR IMPACT.
The next opportunity to join IDEAS FOR IMPACT is Autumn 2022. REGISTER YOUR INTEREST HERE for further details.